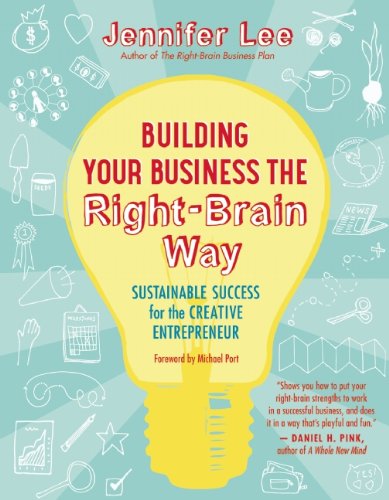 A few years ago, when I decided to make a business out of my screenprinting hobby, I bought a copy of Jennifer Lee's book The Right-Brain Business Plan. I'd owned another business in the past, and had taken an intensive business planning class, but I didn't want to go that route again. I wanted to create a living document, something that was meaningful, that I would revisit regularly. And Jenn's book didn't disappoint. My own right brain business plan is made mostly of photos and drawings (with a couple of Excel spreadsheets), and it lives on cork boards that line my office's walls. I look at it almost every day.
So, when Jenn asked me if I would be interested in her newest book, Building Your Business the Right-Brain Way*, I jumped at the chance.
I'm just about halfway through the book, but I'm already working on crafting my core message (in a way that makes me feel grounded, rather than flaky) and revamping my marketing message in a non-icky manner. Jenn calls this "penning a love letter." I asked her about her process for doing this, since so many business plans talk about market research and target customers, rather than something more, well, heartfelt. Jenn responded:
"Most creative, heart-centered folks love their craft but loathe the idea of selling. Instead of feeling like you're hustling or being pushy, look at sales as an invitation to connect authentically with your perfect customers. Use the format of a 'love letter; to engage in a heartfelt conversation with the people you most want to help. Let them know what you really want for them, that you understand their pain points, and how what you have to offer will make their lives that much better. A love letter helps you shift from 'icky' selling to inspired serving."
And it's true. I've been working through the process of crafting my message around my work (which Jenn calls my "offer") and it's been enlightening and conversational, not sales-y or market-y.
One of the things I like about Jenn's books is that I walk away from them feeling excited and motivated, rather than overwhelmed by everything that needs to be done. If you've launched a business and need to figure out where to take it next, Building Your Business the Right-Brain Way is a fantastic guide. Also check out Jenn's website, which has tons of resources for creative entrepreneurs.
*In the interest of full disclosure, I received an advance copy of this book for review, but have not been paid for reviewing the book. All opinions are my own.