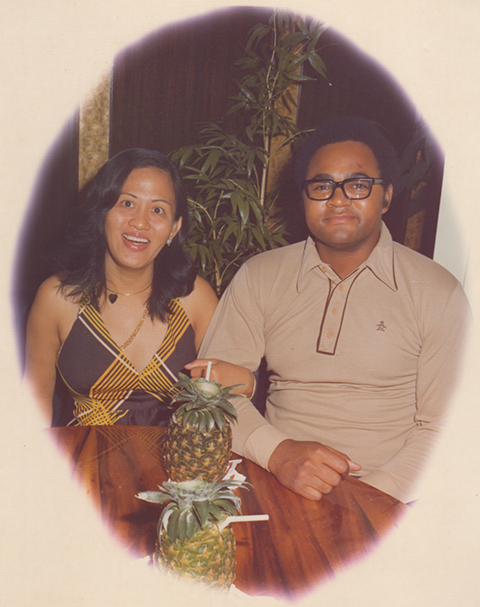 My parents got married in 1974. My mom was three months pregnant with me, and was almost a decade older than my dad, but that's not what made their marriage unusual. What made their relationship different in 1974 was that my dad is African American and my mom is Filipina. Loving v. Virginia, the Supreme Court case that declared laws banning interracial marriage illegal, had been decided just seven years before.
When my mom first came to the US, it wasn't with any intent on staying. She was here on a tourist visa (and was winding down a world tour). But martial law was declared in the Philippines a bit into her visit, and her mother suggested that she try to stay. So my mom converted her tourist visa to a student visa, and met my dad when they both worked at the Mount Saint Mary's library. Somewhere along the line, I was conceived.
My parents decided to marry (my mom told me, after I'd done the math, "Well, we would have gotten married eventually, anyway"). When her family found out, her siblings and cousins took up a collection to pay for her airfare home (her return ticket long since cashed in). She told them "no," that she wanted to stay and marry my dad and raise me in the US. My dad's family was no more supportive; a relative called his decision "misguided," and said this in front of my mother. But they got married anyway.
And they have been married – mostly happily, as far as I can tell – for 39 years. My mom is a US citizen now. I have a younger brother. We were anomalies in our conservative, Catholic school as children, but interracial marriage and multiracial children are seen as very normal (at least in larger US cities) now.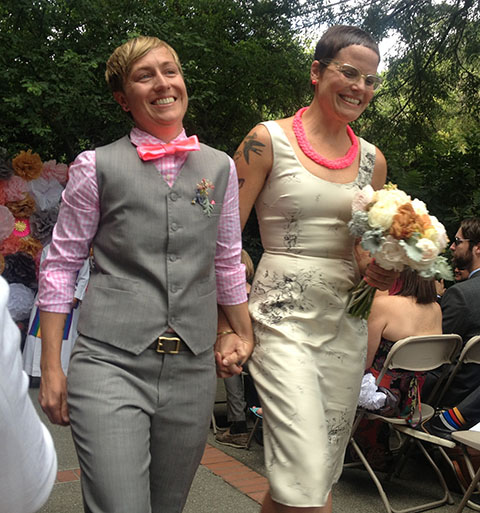 On the day of my parents' 39th wedding anniversary, my friends Lisa and Clay got married. Like my parents' marriage, their marriage is different than most, not because they love each other any less or more or differently from most newlyweds, but because they are both women.  We gathered to celebrate Lisa and Clay's marriage, not necessarily because they are two women getting married, but because two people who love each other very much are committing their lives to each other.
For a while, my dad would tell the bride and groom at any interracial wedding he went to that they had my mom and him to thank for their marriage. Hyperbole, yes, but there was definitely a kernel of truth in that. Because of trailblazers like my parents, a whole generation of kids (save those in less progressive pockets of the US) grew up not thinking twice about interracial marriage. And I hope that the same will soon be true of gay marriage – we will stop talking about it as "gay marriage" and just call it what it is: marriage.
And if any of us ever doubt that our choices can change the world, we only need to look at those whose simple decisions have impacted what the rest of us think and believe. So, Estela and Robert Hewett, and Lisa Congdon and Clay Walsh – I raise a toast to you. Thank you for having the courage to do something as simple as love each other.