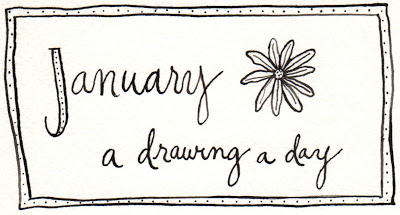 I'd wanted to do a big project in 2013, but then I remembered that I'm already planning to move, and I'm starting a business. So, instead, I'm launching a little project for just one month: A Drawing a Day.
Every day, I'll post a new drawing. There are no rules – I just need to draw something and share it with you every day. Actually, I may do a bunch of drawings at once and post them one by one, but I will post every day. Some days I'll post a simple line drawing; other days, I may bust out my watercolors. The point is to get back into the practice of drawing regularly. 
Also, who remembers these Mike Meyers skits from SNL? I can't say the word "drawing" without thinking of Simon and his silly song. None of my British friends – most of whom are named "Simon" – seem to find these skits as hilarious as we Americans do, though.
Well, Happy New Year! Here's to a year of practice.