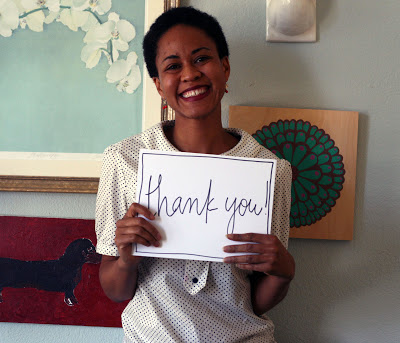 At 5:20 am on Thursday, November 8th, my Kickstarter project ended, and I had $6763 in pledges. To my 86 backers, as well as everyone who helped me spread the word about this project, thank you!
I just realized today that I didn't blog about the close of my Kickstarter project. That's the funny thing about social media – it's hard to keep track of what I've said where. I emailed all my Kickstarter backers through the site, took a screenshot of my project page and posted it to Instagram, tweeted about my project's close, and announced it on my Facebook page. Yup, project ended successfully.
So what's next?
This week, my pattern maker will finalize my technical patterns. I will order quite a few zippers and snaps. Next week, I'll be in LA for Thanksgiving, and will buy my fabric from my supplier then. After that, the fabric will be off to my manufacturer here in San Francisco for cutting. I'll get the cut fabric back, and will print everything the week before Christmas. I'll hand it all back to the manufacturer, along with the leather straps that are being cut for me by a supplier just south of San Francisco. And, if all goes according to plan, I'll have bags ready to ship by mid-to-late-January.
So, no rest for me for a while. But this is exactly what I wanted when I first hatched this idea last winter, so I am not complaining at all. Many amazing things are yet to come; this is just the beginning!