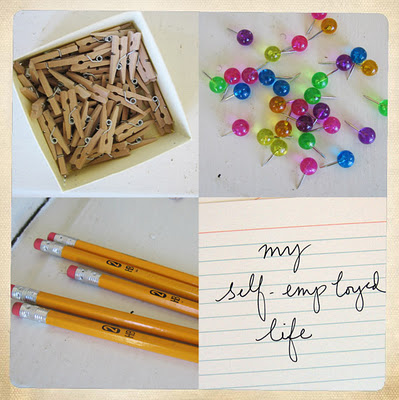 My word for the year is "focus." It's a good word for me because I tend to take on a lot of projects and end up feeling scattered and overwhelmed. Which, strangely enough, is a perception of me not shared by my peers. They already think I'm focused. I'm not.
This year, I've decided to tie my goals to my word. My goals are to:
Have a consistent client income. A consistent income means being on retainer, which means working with fewer clients for longer periods of time on more focused (there's that word already!) work. Last year, I took a lot of one-off projects, which was really helpful with income and with making connections, but this year I'd like to help companies grow rather than just react to their immediate needs.
Experiment more. This may sound more like the antithesis of focus, but I think that experimenting will help me find my artistic voice. All of the huge leaps I've made creatively have come from experimenting, playing. So I'm going to try a whole bunch of new and different things to force myself to get to the next level (whatever it may be).
Apply for a textile design apprenticeship. I want to be a textile designer. I've found a program that I'm interested in applying to. My application is due this summer. More on this later…
Create a website that is a central home for all my work. I want a single home for my blog, my (currently non-existent) portfolio, and my shop. I'm in too many places these days.
Create collections for 3-4 online pop-up stores. The pop-ups allow me to focus on one cohesive collection at a time and keep me from spending time shipping orders and updating my shop when I'd rather be creating. You can check out my current pop-up here.
Launch a new project later this spring. I'm excited about this one. It will probably be one of my pop-ups, but it's also going to be different type of project that explores creating a sustainable, consistent source of income from my art. It's also going to be my largest creative business undertaking since I started my (now-defunct) wholesale stationery business in 2000. More on this later, too…
So, there's my 2012, all laid out for you. I'm excited about this new year, this new focus. Do you have a word for the year? How does it tie into your goals?
Happy 2012!