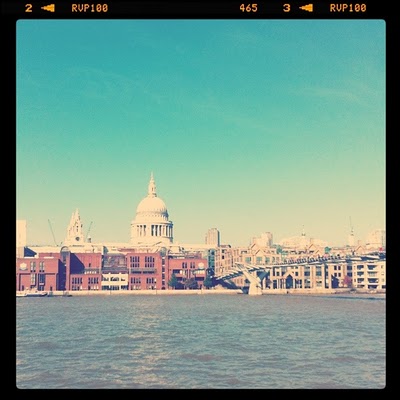 St. Paul's Cathedral and Millennium Bridge, from the Tate Modern London.
My parents still (well, at least for the next two weeks) live in the same house I grew up in. I've had my apartment – the first since I graduated from college – for 16 years now. Yes, I've had many careers, but I'm not the kind of person who moves around a lot, who picks up and moves her whole life to another city or another country.
Or so I thought.
When I got Jake, I believed this was my acknowledgement that I had settled down, that living abroad wasn't in the cards for me anymore. When I thought about going to grad school, I only looked at local schools, believing I'd be crazy to give up my beautiful (and rent-controlled) apartment. When I started consulting, I thought that I would need to adapt my schedule so that I'd be available to my clients at all times. But in leaving behind my dog and my apartment and my clients for a month, I found just how easy it is to make a huge (albeit temporary) change. And I discovered that removing myself from my routines makes me more creative – and also made me question the longer-term goals I'd set for myself.
So here's the biggest take away from my trip: it's time for some big changes in my life. I have some ideas about what these changes will be, and others are still waiting to reveal themselves to me, but I'm ready to shake things up even more.
And with that, I return to unpacking…