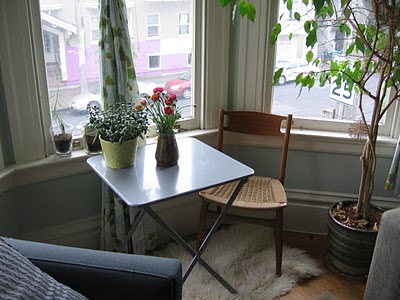 My once-breakfast nook is now my little print studio, and my dining table is often covered with works-in-progress, so I've been eating most meals on the floor of my living room lately. And while it's convenient (Jake swoops in to eat anything I've dropped), it's just not very civilized.
So I decided to carve out a little dining area – complete with proper table – in my living room. In a move that's very unlike deliberate-home-decorator me, I went to IKEA and bought the first non-melamine, small table under $40 I saw. This partly had to do with the fact that I was in a crowded IKEA on a Sunday (I suddenly remembered why, when you're self-employed, you schedule regular tasks like grocery shopping and IKEA treks for a weekday morning), and partly to my own knowledge that if I gave myself a chance to think too hard about the purchase, I would.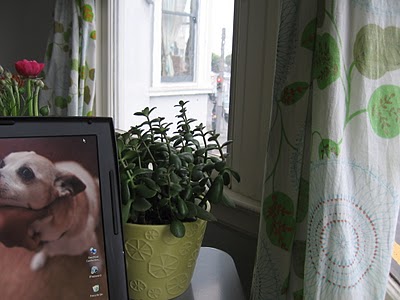 It all worked out. The nook is cozy enough for meals, and functional enough to do some work. I can watch the pedestrians jaywalk outside my window – or watch yet another episode of "Without a Trace" (who knew that show had so many episodes?).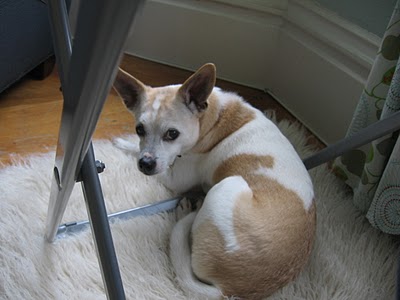 Plus, I moved Jake's favorite rug underneath, ensuring that while I work or dine here, I'm never alone.