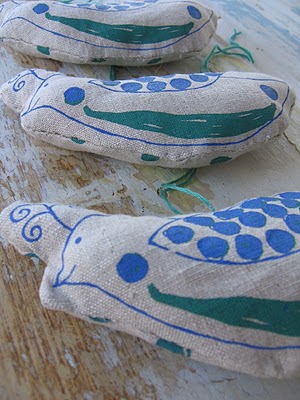 I saw a friend at a party recently and he asked me why I'd been sewing so many bird ornaments at a craft party a few months ago. When I explained that I sold them, and that I'd had orders for twenty of them, he asked the price.
"Fourteen dollars each."
That set him off. He couldn't believe that anyone would buy one of my bird ornaments for $14. Not because they weren't nice but because he thought that was just too expensive.
This shook me up. I'd struggled for a long time with pricing – I think a lot of artists do. We're surrounded by a culture of cheap. Inexpensive consumer goods, often made by extremely underpaid people in developing countries, abound. We're a society that prizes white-collar jobs and outsources its blue collar/manufacturing ones; we often undervalue the things that are made, grown, consumed. So, yes, when you compare an ornament selling for $6 at the mall with one of my $14 ornaments, of course mine seems expensive.
But my pricing factors in the amount of time it took me to come up with the design, create the transparencies, choose the colors, expose my screen, cut the linen, print the linen and sew and stuff the ornament. It includes the time I spent photographing the item and listing it online for sale. It takes into consideration my ultimate goal of doing this for a living – I need to value my time and my skills and pay myself a livable wage.
And I remind myself that my friend isn't my market. I'm not going to convince everyone that a $14 ornament or a $35 art print is worth it. There's a small, but growing, market for these items; my friend just isn't part of it. Not yet. Not ever, maybe, but I'm not going to let one naysayer (or even a million of them) convince me to undervalue my work.