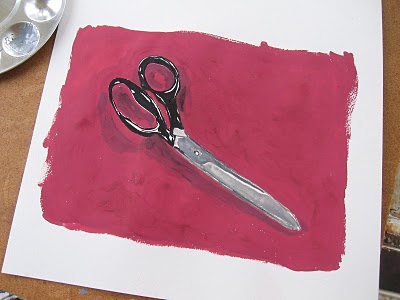 Feeling inspired by the incredible (and colorful) Maira Kalman exhibit at the Contemporary Jewish Museum, I decided to start painting again. I bought a set of gouache paints – a medium I've never used before – and stocked up on a few brushes.
I'd used watercolors for years but rarely ventured into other media. Acrylic and oil always intimidated me – they require an expertise and a technique I'd never learned or acquired. Watercolors always seemed so accessible, so impermanent. They never took me long to make, so if I didn't like the way something turned out, I didn't feel like I'd lost much time.
These days, though, I'm trying to take my time. Work slowly, be more deliberate; not expect a masterpiece after just thirty minutes of work.
Here's my first-ever gouache painting. I think it will be the first of many. Very, very many.