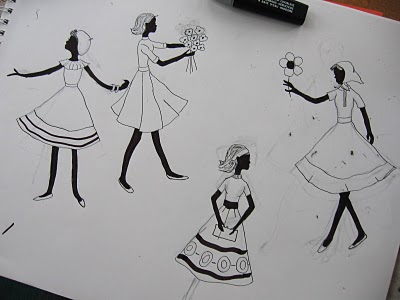 I'm working on something new. Starting something, in the words of the immortal Michael Jackson (sorry, can't get that song out of my head).
I'm not quite sure how this is going to turn out, or what it's even going to be. But I like the feel of it. I like the direction. I like that I'm drawing women (instead of just their legs). And I like that the ladies are black, like me. Well, okay, silhouettes. Let's not attach labels to them just yet.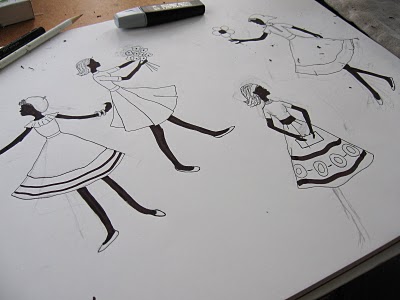 The illustrations were inspired by a vintage scarf that I bought at a vintage paper fair. The scarf had been misfiled and the proprietor hadn't been able to find it in time to show a textile designer client. And I didn't really find it, either. No, a young woman had found it while looking for something else, wanted to buy it for her mother, but couldn't afford it. So I hovered until she walked away. And the scarf was mine. That's serendipity, my friends.
Anyway. I'm going to keep drawing. I may end up with a layout for a print or a bag – or both – yet.