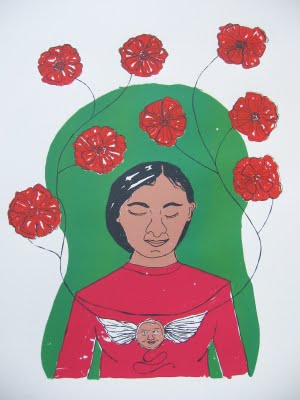 I finished my Day of the Dead print last night and am pleased with it. It looks better than I'd anticipated, and my last-minute, gut instinct decisions about color worked.
Creating this print was not an easy project for me. In the beginning, every time I started sketching, I heard Tim Gunn's voice in my head, saying, "You don't want the judges to say you're a one-note." I'm not kidding. I've been drawing shoes and purses and animals for so long that I wasn't sure I could do something using someone else's theme. And yet, I wanted my work to look like "me," so I decided to forgo the skeleton imagery and try to capture death and peace.
A little about Day of the Dead – in the West, it's a holiday celebrated primarily in Mexico. It was celebrated long before the Spaniards arrived and Christianized the holiday. It then somehow made its way to the Philippines – probably thanks to those same Catholic missionaries – where it is one of the big, religious holidays. Much of the symbolism is the same – according to my mom, skulls, orange flowers, and shrines to deceased loved ones dominate.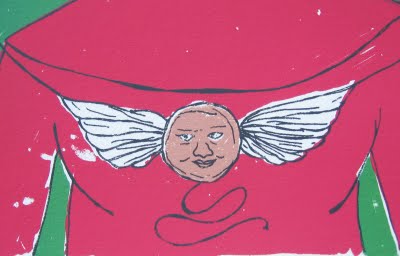 So, in a way, this is a little shrine to my grandmother. Any of my cousins who see this may notice that the image doesn't look much like Lola. But I tried to capture her spirit a bit, as well as her love of color (and the way she always parted her hair).
I'll drop the print off at the gallery tomorrow. My only regret is that I didn't give myself more time to experiment with the printing. But now I know that I can do something a little different than my usual, and I'll make the time to experiment more in the future.
More info about the show can be found here.