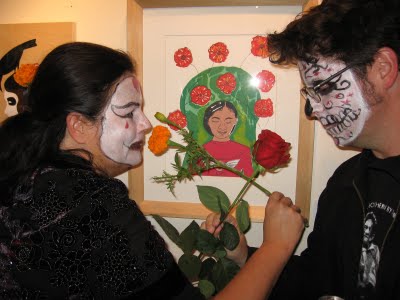 Rosie and Tim, muertos faces, and my print.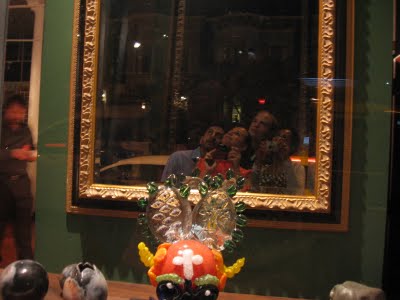 Glass skull, mirror, silly poses with Sami, Steph and Bjorn
Huh. I looked on my camera this morning and saw that I only took four photos of the show opening last night. Four! That's a sign of a good night. Many of my friends stopped by. I ate tamales. I even ate crickets (or were they grasshoppers?) – they were quite tasty, and were lightly flavored with lime and salt. There was poetry, as well as a little memorial service (which reminded me so much of the Catholic Lenten services of my childhood).
I might go back some time this week to take a few more photos. All of the other work was pretty great and I felt honored to have been included in the group.
Also, Dia de los Muertos in San Francisco is way cooler than Halloween. Yes, there are costumes and face paints and parades, but there's also still a real connection to tradition – a celebratory solemnity, almost.
Belated Happy Halloween-All Saints' Day-All Souls Day, everyone.