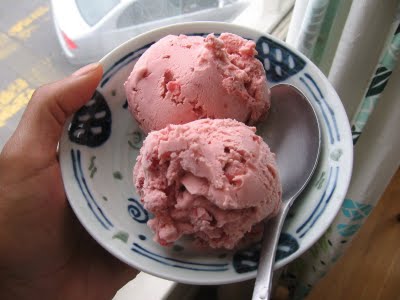 I spent most of my weekend at the Outside Lands Festival on a free pass because I volunteered at the farmers' market booth there. In addition watching some amazing performers for free, I also received four pints of organic strawberries and raspberries from one of the farmers. But I can't eat that many berries, and didn't need to make anymore jam.
So strawberry-balsamic ice cream it is.
This is one of my favorite flavors from Bi-Rite Creamery and it's very easy to make. Since it takes just as much work to cook with high-quality ingredients as inexpensive ones, I always try to use the best ingredients I can find. I used Straus Creamery half and half and cream, fresh eggs from the farmers' market, and, of course, the sweetest (and free!) organic strawberries.
I adapted this recipe a bit for the following recipe. Hmm… and now I'm thinking of making some French butter cookies to serve with the ice cream.
Strawberry-balsamic ice cream
3 egg yolks
3/4 cup half and half
3/4 cup sugar
3/4 cup heavy cream
1-1/2 to 2 pints strawberries, washed and hulled
1-2 T balsamic vinegar
2 T vodka (to keep the ice cream from freezing rock solid)
Vanilla
Salt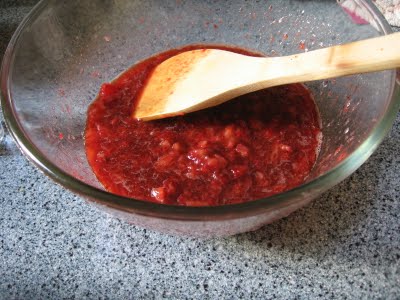 1. In a small bowl, whisk the egg yolks.
2. Heat the half and half and 1/2 cup sugar in a small saucepan, stirring occasionally to dissolve the sugar. When the mixture is hot (but not boiling), whisk a little of the half and half into the egg yolks, then whisk the yolks back into the milk and sugar mixture. Cook over medium heat, stirring constantly, until the mixture is thick (it should coat the back of the spoon). Do not let it boil. Remove from the heat and strain into a heat-proof bowl.
3. Add the heavy cream. Cover and refrigerate until the mixture is cold.
4. Mash the strawberries. Mix in 1/4 cup sugar, balsamic vinegar, and vodka. Let mixture sit, stirring occasionally until the sugar is dissolved.
5. Add the berry mixture to the cold cream mixture. Add a couple of drops of vanilla extract and a pinch of salt. Chill thoroughly and then freeze in an ice cream machine following the manufacturer's instructions.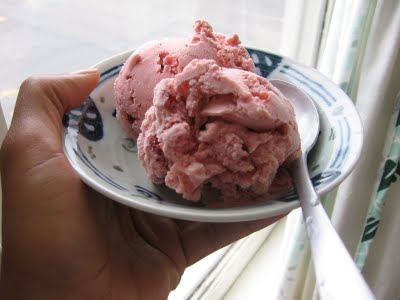 This recipe yields just about a quart of ice cream. Serve with butter cookies or cake or just a spoon.