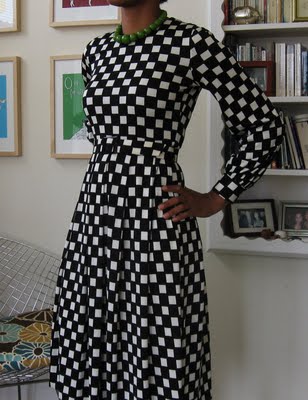 Back in the Eighties, my dad worked for JVC and was sent to Tokyo for management training. One of the items he brought back was a gorgeous, navy blue, Hanae Mori scarf, which was given to him for my mom by one of his Japanese colleagues. My mom explained that Hanae Mori was one of the first modern, couture designers from Japan, and has treasured that scarf for almost three decades now.
So, when I was going through the dress racks at Crossroads and saw this Hanae Mori dress, I knew I had found a collectors' item. The print is mod, but the cut of the dress is very late-Fifties/early-Sixties day dress. Crossroads clearly didn't know what they had because they had priced it at just $12.50.
I've been working on sketches for a new paper doll book – this one featuring fashion from the Fifties and early Sixties (it's really an excuse to watch some of my favorite, old movies again) – so this find was a particularly provident one.
Plus, the dress fits me perfectly. It's possibly my best vintage find ever.