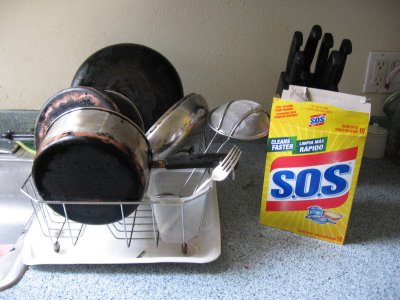 My mom and I had made it two days without her hurling one of her zingers at me. A zinger is the kind of offhand, but pointed, comment that moms are especially good at flinging at their adult daughters. On Day Two, while we were preparing dinner, Mom turned to me and said "Do you know what you need?"
"Oh, god," I thought. "Is she going to tell me that I need a job? A husband? A half slip?"
She paused. "You need some SOS pads. Your pots are black. If you scrubbed them just once a month, they'd look so much better."
That's it? All she thinks is missing from my life is a cupboard of shiny pots? Wow. For once, I readily agreed with her.
I've been a bit stressed lately – about my job search, about the upcoming Renegade show, about my dwindling savings. And when I'm stressed, I do something my mom always did: I clean. I reorganized my storage room. I scrubbed my kitchen cupboards. I repotted some cacti. And, yes, I bought a box of SOS pads and scoured my pots (which look almost as good as they did ten years ago; granted, I've had these pots for 15 years). I unleashed my inner Mom (who is, not coincidentally, a Virgo) and cleaned my apartment until it shined.
I feel so much better now. Sometimes a little bit of order and cleanliness are called for, especially when other things seem beyond my control.
But i do draw the line at snaking my shower drain. A girl's got to have some boundaries.