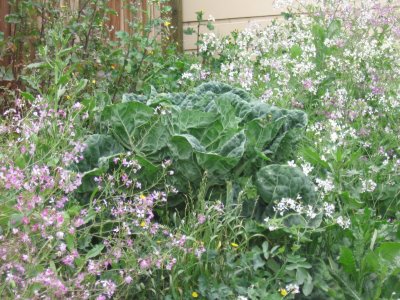 My dad grew up in a poor, single-mother family in LA during the Fifties. Every Sunday, the family would walk to church, along roads that were bordered by empty lots (this is before LA became the overdeveloped city it is today) where collard greens often grew wild. My dad and his siblings would leave the house in their Sunday dresses and suits, carrying old pillowcases or flour sacks, and wearing their everyday shoes. Their good shoes – worn only on Sundays, and only during church services – were in their sacks.
When my grandmother spotted a collard plant, the kids would tramp through the lot, pick the leaves, and stuff them into their cases. They did this until their bags were full (or until they were late to church). When they got to the vestibule just inside the church, they'd change into their good shoes, placing their everyday shoes on top of their bags to mark their bags as their own. Many other families had the same idea, so the back of the church was lined with old pillowcases full of collard greens.
I've always loved this story. My dad talks about fighting with his brother and sisters over who got to eat the pork in the can of pork and beans – they were that poor. But on Sunday nights, at least, there was always a little bit extra.
Nowadays, you can buy pre-washed and cut greens in neat bags at Trader Joe's. There's absolutely nothing wrong with this – I buy them all the time. But every time I go to the farmers market and see a big box of dusty collards, or every time I pass a collard plant in a rare empty lot in San Francisco, I remember my grandmother. I'm always thankful that hunger is so far from my own reality, but wonder if, through the packaging of the most elemental foods, we've lost a connection to a bit of our own history.
(And, yes, I took that photo San Francisco, in an empty lot in Bayview, across the street from a solar installtion event Brightline was sponsoring. I was so tempted to pick those greens!)