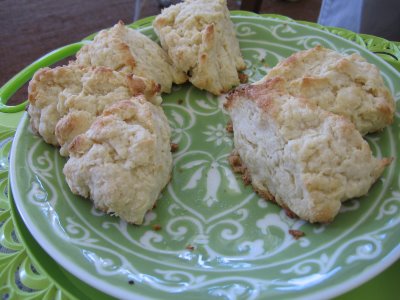 When I was a kid, my mom loved going to Bullocks-Wilshire. It was a higher-end department store in an Art Deco building on the edge of downtown Los Angeles – and it had a tearoom on its top floor. The tearoom was so old-fashioned, and so were its patrons. High tea featured young models wearing the latest fashions parading around groups of white-haired ladies in ancient Chanel suits.
When Bullocks-Wilshire closed, the LA Times ran a multi-page spread in its food section with recipes from the tearoom. Included were recipes for chicken salad, crab salad (salad apparently being popular with ladies who lunch since the beginning of time) – and scones. I believe they were called "Perfect Scones." It's a fitting name since they are,well, perfect.
My mom baked these when I was a teenager. I went off to college and baked them for my dormmates. I still make them. They don't require anything that I don't already have in my kitchen. I've adjusted the recipe a tiny bit; I usually use sour cream, but milk, half and hald, or cream will do just as well. Today I served them with my plum jam (I needed the last of my heavy whipping cream for my coffee).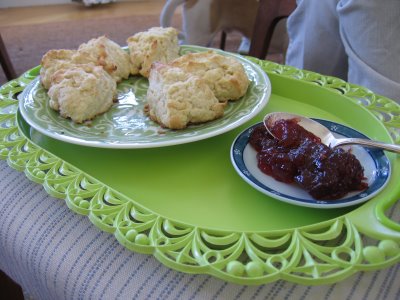 Bullocks-Wilshire's Perfect Scones
1-1/4 cup flour
1-1/2 teaspoon baking powder
1/4 teaspoon salt
1/4 cup unsalted butter, room temperature or colder (don't melt the butter!)
3 tablespoons sugar
1/3 cup sour cream (or whipping cream or milk)
Heat oven to 375F.
Combine flour, baking powder, and salt. Chop the butter into pieces, and work it into the flour mixture with your hands until the mix resembles coarse cornmeal. Mix in the sugar. Add the sour cream and stir.
Knead the dough until it all sticks together in one, big ball. Place onto a cookie sheet, flatten the ball into a disk, then cut across the diameter four times. Separate the pieces and cook for 12-18 minutes. The tops should be a very light golden color.
Let cool about five minutes, then eat the entire batch in one sitting.