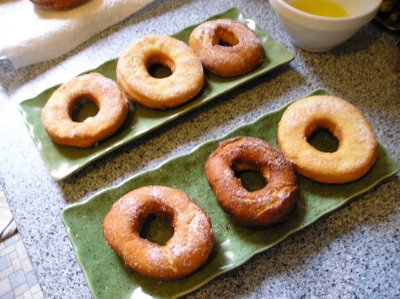 I woke up yesterday craving donuts – I'd finally gone to Dynamo Donuts last week and hadn't been able to get the thought of delicious fried dough out of my mind.
Rather than trek the four blocks in the rain to the sub-par neighborhood donut shop, I decided to make my own. They are surprisingly easy to make, especially if you're an experienced fryer.
I adapted a recipe from The Joy of Cooking… though next time, I'll make a yeast dough instead of a baking powder dough for a lighter, doughier donut.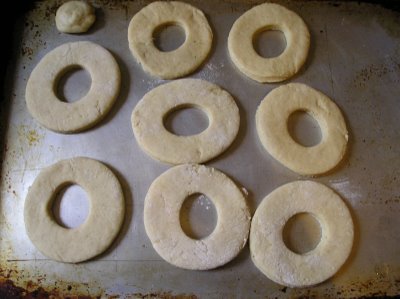 Sweet Milk Donuts
Beat:
1 egg.
Add slowly, beating constantly:
1/2 cup sugar.
Stir in:
1/2 cup milk
2-3 tablespoons melted butter
Sift before measuring:
2 cups all-purpose flour
Resift with:
2 teaspoons baking powder
1/4 teaspoon cinnamon
1/4 teaspoon salt
1/4 teaspoon nutmeg
Mix moist and dry ingredients. Let chill for about 10 minutes. Use two different-sized biscuit cutters to cut the donuts and their holes.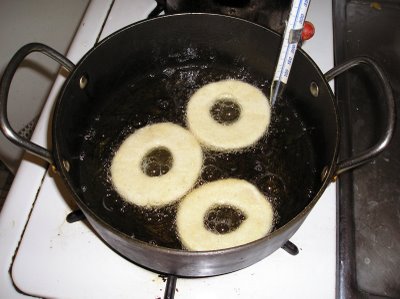 Heat good-quality oil (like peanut oil) to 370F. Fry donuts, 2-3 at a time for 15 seconds on each side.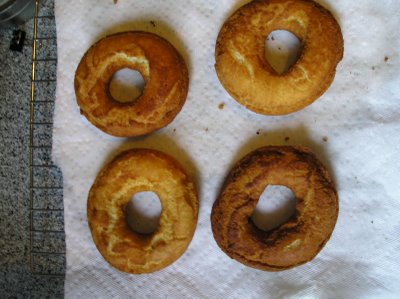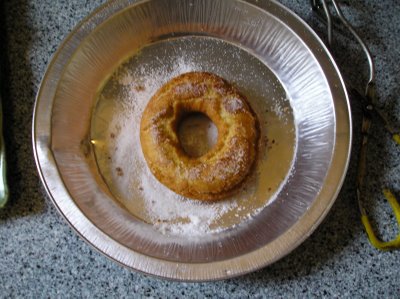 Dry on paper towels. Roll the donuts in sugar and serve warm.
Makes 12-18 donuts.