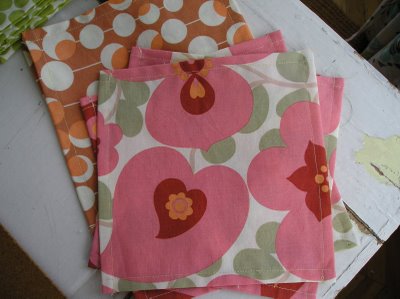 One can really never have too many cloth cocktail napkins. Guests come over, use a napkin, put it down, can't remember where they put their napkin, then take another one (which is the same reason one can never have too many drinking glasses).
I made a few cocktail napkins using leftover Amy Butler fabric for a friend's birthday present. The finished products are 7 inches square. I cut an 8.5 inch piece of fabric and folded each edge in .25 inches twice, then stitched the edges using a .25 seam allowance.
If you're feeling ambitious, you can add appliques and embroidery. I, however, wasn't. When it comes to cocktails, I prefer as little distraction from my drink as possible.