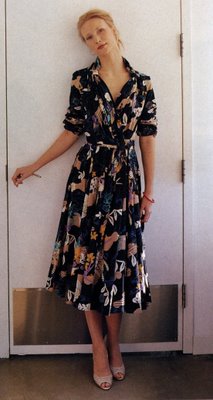 photo from
Blueprint
magazine, summer 2006.
I would so wear this dress. The print, the fit, the length – everything about it is perfect. I'd own it in three different prints, if I could.
Actually, one of the reasons I started sewing again is so that I could make myself the same item in a variety of colors and prints. I'm not kidding. A friend and I have joked a few times that our adult wardrobes are an attempt to re-create our much-loved high school uniforms. There was something liberating about not having to think about what you were going to wear each day – and also to know that what you put on would be fairly flattering and comfortable.
On another note, I miss Blueprint. I thought it was a silly magazine at first, but I grew to love it.