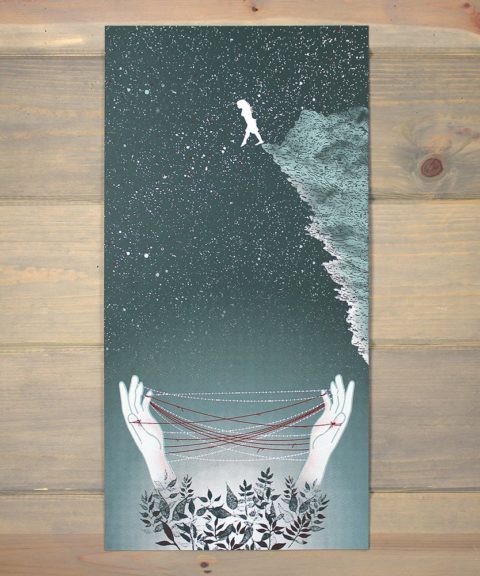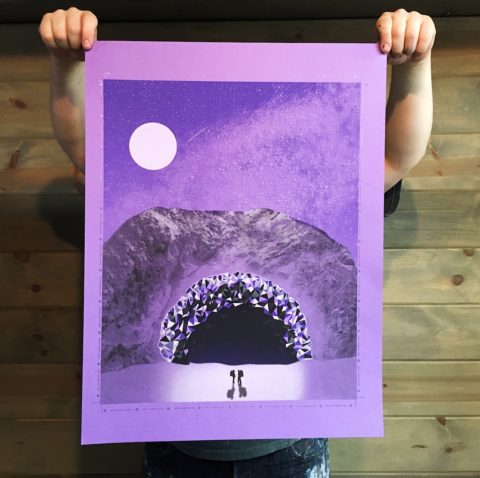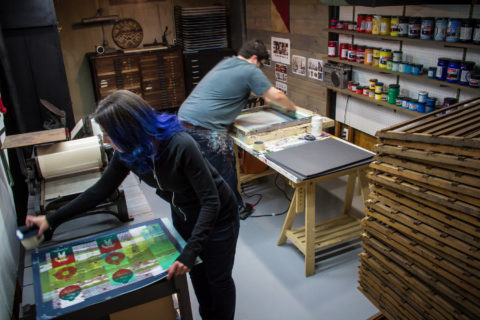 This week, I'm introducing you toe Christina and Dennis Jacobs, the husband and wife duo behind Arsenal Handicraft. Working out of their home studio in the Detroit area, Christina and Dennis agonize over every tiny detail, illustrating and screen printing each piece from beginning to end.
JH: When kids say that they want to be artists, most grownups assume that they want to become painters or illustrators (or, occasionally, sculptors) – but never printmakers. How did you find your way into this medium? What other media do you work in?
AH: In college, Dennis was collecting screen printed posters, especially Shepard Fairey's. He started to experiment with making his own artwork, mostly with stencils and spray paint, and was part of a few gallery shows in Detroit. He learned to screen print as a way to work faster – cutting stencils was time consuming.  It also allowed him to make multiples of the same image.  Once we had a small print studio set up, we sought out opportunities to make gig posters for bands. We also bought a couple of small printing presses and a little collection of lead and wood type. However, we stick mostly to screen printing these days.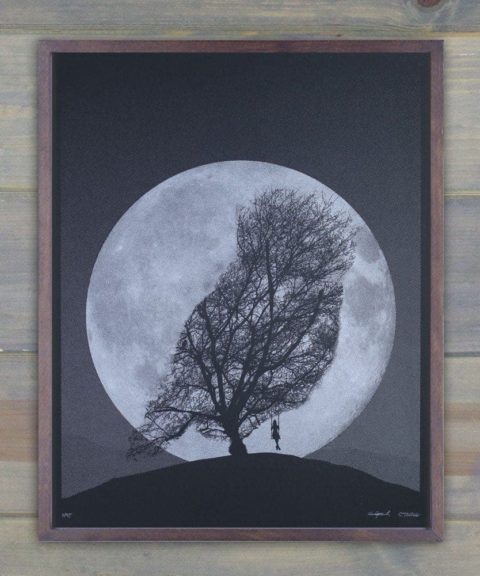 How would you describe your work?
Our screen printed illustrations hopefully tell a story or evoke some kind of feeling. One of the best things we ever overheard about our work was said by a mom holding a toddler and looking at one of our prints. The mom wanted to buy it for his room, and the kid asked, "Why?" She said, "Because I think when you look at it, you can imagine things happening in it."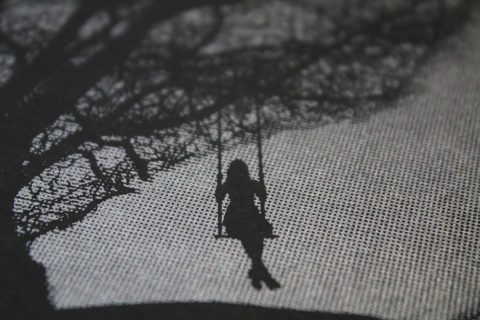 What's the first thing you ever remember making?
The first thing we made together was our wedding invitations in 2009. They were on boring white paper with navy blue ink that printed almost black. We used a delicate script font that was impossible for us to burn correctly with our setup, which was a shop light from Home Depot hanging over a piece of black fabric on the basement floor. To this day, we still try to push the limits of our printmaking abilities with everything we make. 8 years in, we're still finding ways to screw things up and learn from our mistakes.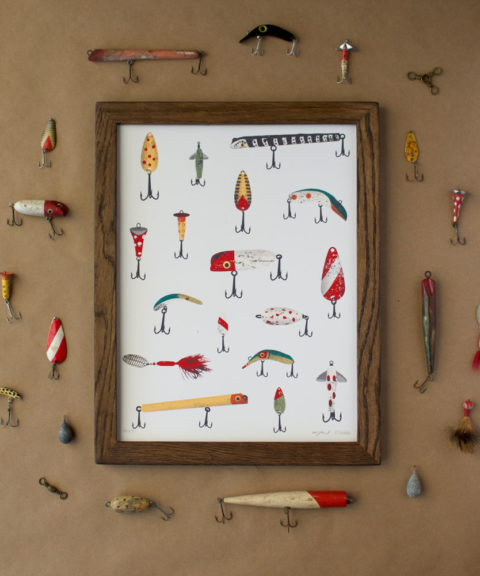 Is there a ritual or activity that is crucial to your practice?
When getting started seems impossible, we force ourselves to work for just 10 minutes even if we don't feel like it. After that, if we still want to quit, it's okay, but we usually get in a groove before then. Before getting to work, Christina sometimes lights a stick of Japanese incense that's supposed to enhance creativity. It forces her to sit there and work for at least as long as it's burning so the fancy incense doesn't go to waste. It's silly, but it works.
What are you currently working on, and why?
The next print on press is a cross between a mountain landscape and an infographic, and it depicts the highest peaks in the Pacific Northwest. We're taking a trip to the Oregon coast, and doing a pop up shop at one of the places that stocks our artwork.
Do you have a dream project (or two)?
Christina really wants to do a large scale piece of public art. Dennis wants to design labels for a brewery. We'd also love to do a solo gallery show.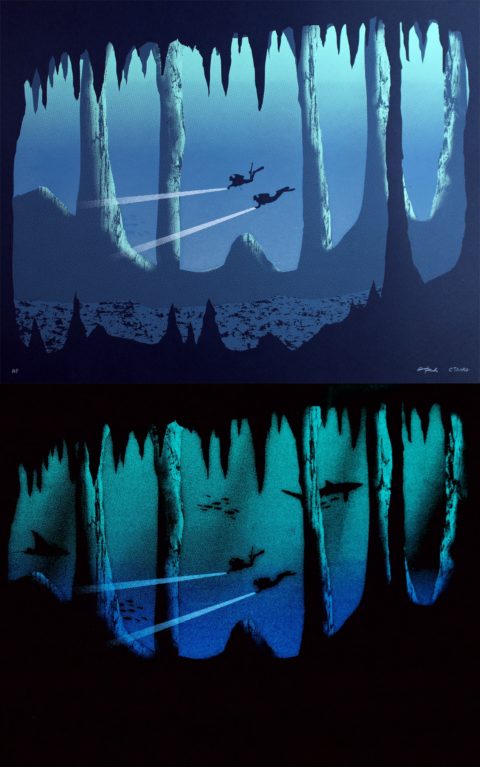 What's next?
We have a proposal in the works for a mural, so hopefully that pans out! We'll also be one of the artists working on site again at Mo Pop, which is a local music festival. We'll have a piece in a group show at a gallery in Chicago, a packaging design project, and somewhere in there, we'd like to create a new line of holiday cards for 2017. We do a lot of craft shows in the fall and winter, and we never start prepping for those early enough.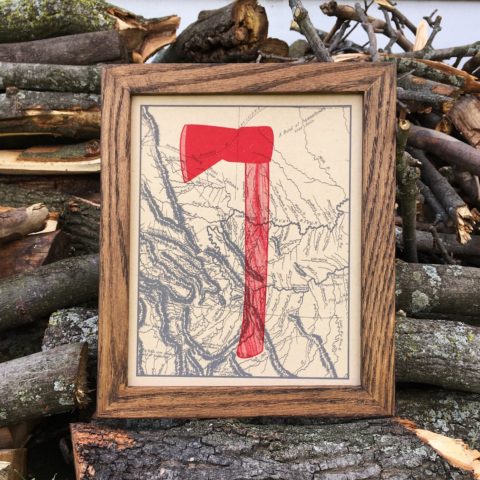 What advice would you give to someone who is just starting out?
Work as late into the night as your youth will allow.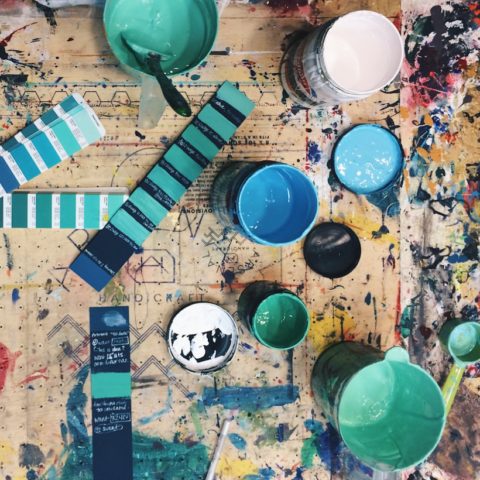 What do you want readers to know about you or your work?
We absolutely love to talk shop. If you ever see us at a show, or want to ask a screen printing related question via email/comment, do it! Lately, we've been using Instagram Stories more to document our process, and sometimes, when we're feeling brave, we'll do a live "studio broadcast" and answer questions. We love to explain how our prints are made, as well as talk with other artists about printmaking. It's a wonderful, generous community to be a part of.
How can people find you?
Website + shop: http://arsenalhandicraft.com/
Instagram: @arsenalhandicraft
Facebook: https://www.facebook.com/arsenalhandicraft
Twitter: @arsenalhcraft