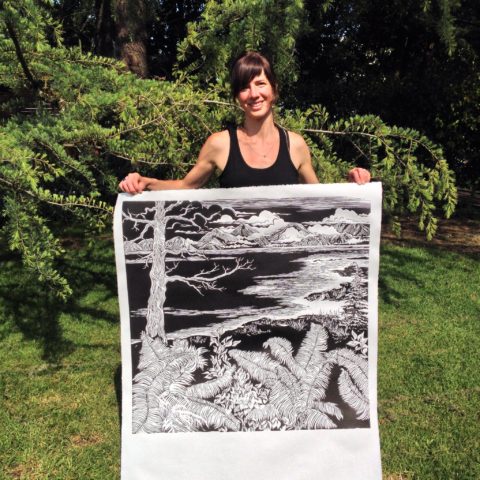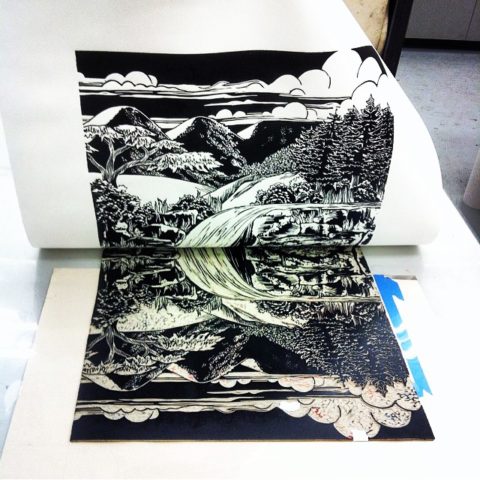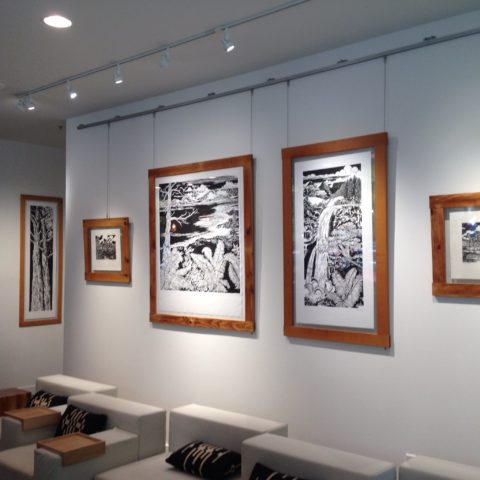 Portland-based artist Kelli MacConnell carefully explores landscapes, then translates her natural surroundings into richly detailed prints. For her, printmaking serves as a key vehicle in fostering a relationship between humans and the natural world. She is currently working on an ongoing series of prints called Prints for Preservation. She talks about this project – and so much more – in our interview.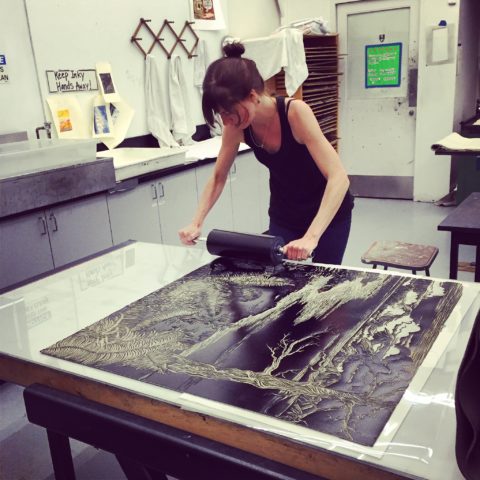 When kids say that they want to be artists, most grownups assume that they want to become painters or illustrators (or, occasionally, sculptors) – but never printmakers. How did you find your way into this medium? What other media do you work in?
It actually wasn't until college when I discovered printmaking. I was a drawing/painting major when I took my first intro to printmaking class as a sophomore. I was immediately hooked and shortly after changed my focus to printmaking! I've been creating mainly relief prints ever since, however I still enjoy drawing and painting.
How would you describe your work?
Graphic nature inspired impressions of the wild.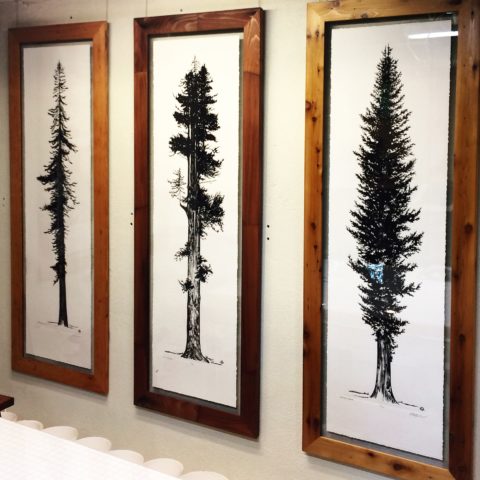 What's the first thing you ever remember making?
The first thing I ever remember making was a piece of art I created by melting crayons when I was 3 or 4 at my preschool. I still remember I absolutely loved the smell of the melted wax and watching it transform into a liquid and then a solid again on my paper as it cooled. Well, and making cookies with my mom… not sure which came first!
Is there a ritual or activity that is crucial to your practice?
Coffee! And I often find myself in a clearer state of mind and much more motivated to create after a hike in the woods.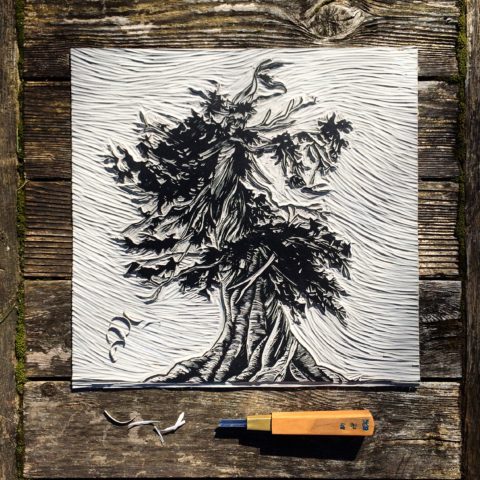 What are you currently working on, and why?
I'm currently working on a handful of projects simultaneously. I'm just finishing up a small edition of prints for a fundraiser show, a wine label design for an Oregon winery, an ongoing series of 4 ft. native tree linocuts, and I am gearing up for an action packed summer of outdoor fine art shows in Washington and Oregon. I find that I really enjoy working on a variety of projects at once. As an artist, there are so many different avenues to venture down, and I think it's refreshing to mix things up a little!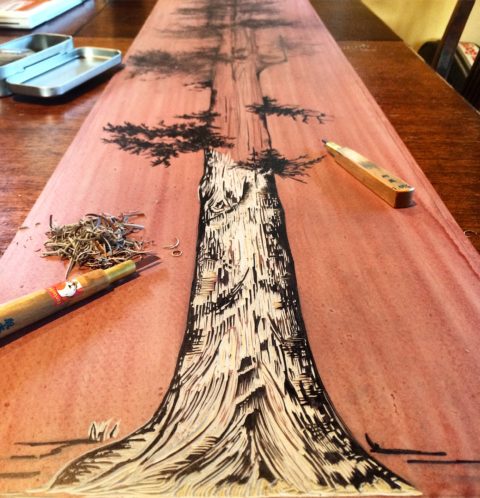 Do you have a dream project (or two)?
I have many projects whirling around in my head, but the biggest one that comes to mind is to live and have a printmaking studio in a somewhat remote town or wilderness area. This place would be a studio/art center where I can teach workshops for children and adults, and also an artist retreat destination. It would be a place for other artists/printmakers to come for months at a time to create (artist residencies), find peace and work through their own ideas and concepts for making and creating.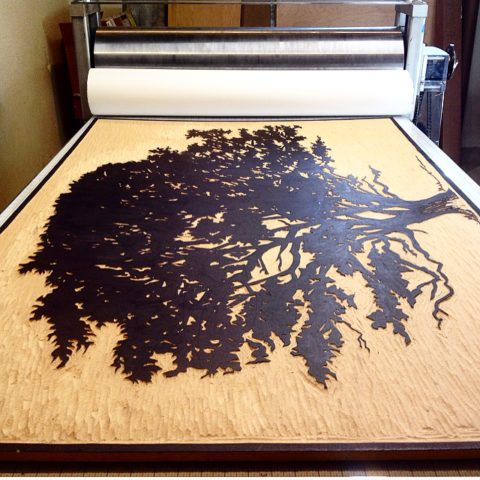 What's next?
I will be continuing my ongoing series of large format native tree prints (Next up is the Ponderosa Pine), while I travel and participate in a handful of shows this summer.
What advice would you give to someone who is just starting out?
Never stop creating… Learning is a process of ups and downs, and it is with mistakes that we find clarity!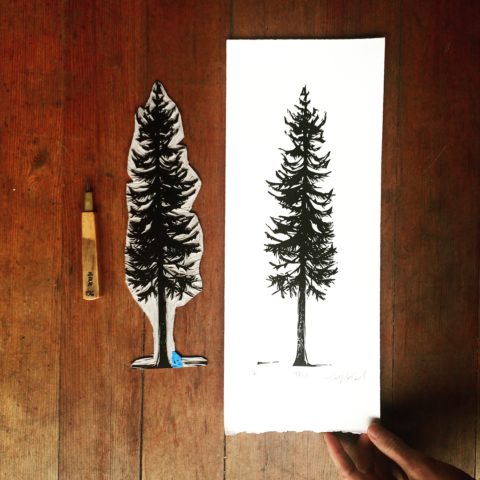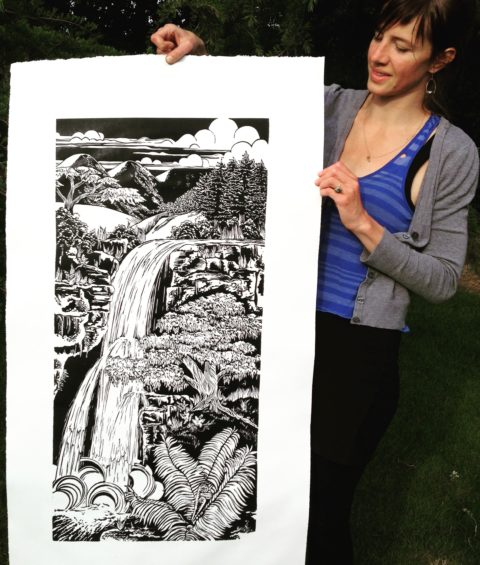 What do you want readers to know about you or your work?
I create these nature inspired images not only because it brings me joy, but I create in hopes to connect others to the natural world as well. I hope that these prints are little reminders of what is out there beyond our windows, phones, computers… I also hope that they may spark interest in a particular place or bring up a memory or connection with a particular tree, for example, and then be the motivation for a visit to a forest, river, mountain or maybe a lake.
I feel like so many of us have become disconnected from the natural world, and forget that our health is affected by this. I believe contact with nature improves our physical, mental and emotional well-being. People need to reconnect to the wilderness around them, and it is then that they will feel fulfilled; It is then that they will live a more satisfying life and feel content.
Also, in response to my strong feelings toward the importance of the nature, as of this year, I've started an ongoing series of prints called Prints for Preservation. I will be creating one edition annually that benefits a nonprofit that helps preserve and restore threatened wilderness areas.. This year's print is the Whitebark Pine and all profits are being donated to The Whitebark Pine Ecosystem Foundation.
How can people find you?
Website: www.kellimacconnell.com
Instagram: @kelli_macconnellprints
Facebook: Kelli MacConnell Prints