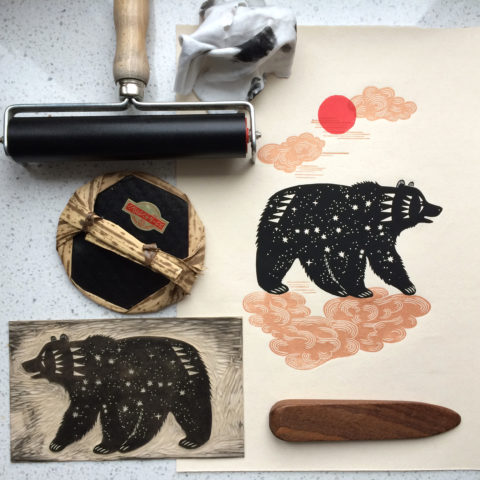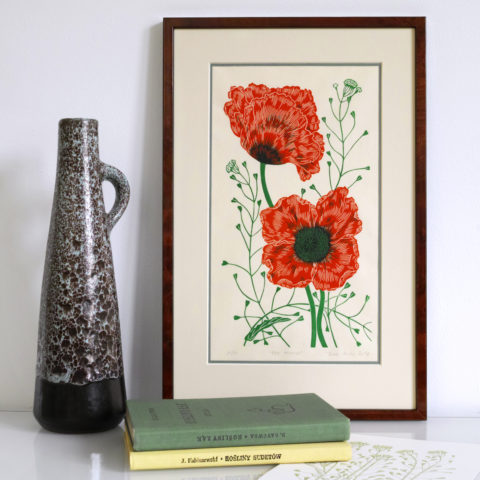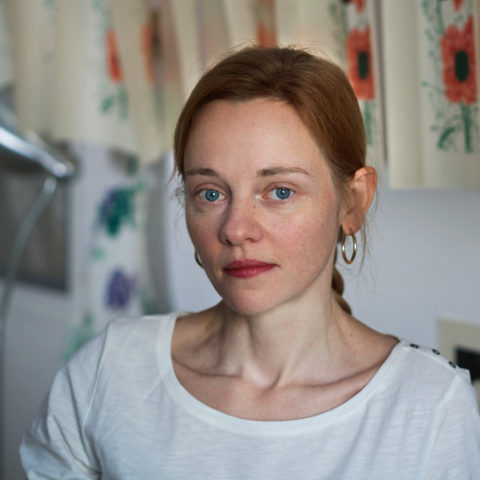 Zuza Miśko Wiskirska is a Warsaw-based printmaker and illustrator (and a former film maker). I found her work through Instagram (where I seem to find so many good things these days!), and was instantly drawn to her minimalist aesthetic. Zuza takes full advantage of block printing's features; her use of texture and white space reminds me of traditional Japanese block prints, yet her style is thoroughly modern. I love her work and her overall style, and I think you will, too.
JH: I was really excited to learn that, like me, you are a self-taught printmaker. What were you doing before you started printmaking? And what led you to explore the medium? How does your previous life (as a filmmaker) influence your current work as a printmaker?
ZM: Both my parents are fine art painters so I used to draw and paint a lot as a kid. We all loved paper media and printed matter at home. My mother had a short period of doing linocut prints and let me try printing my own lino block when I was about six. I also helped my father in his screenprinting studio in the 1990's and visited commercial print houses with him, as he used to supervise some offset printing as a part of his work.
At high school I got fascinated with film and I decided to study special effects and animation at the Cinematography Department of the Polish National Film School in Łodź. I loved camera gear and my professors but the studies were a bit too tough for a very young girl. I focused more on traditional and computer animation and graduated as an animation director.
After studies I worked mostly in advertising, which was pretty draining. I also directed and designed a short film for kids and produced a number of sophisticated vector artworks, which I used to sell as giclée prints. But in fact I never felt right working in  digital media. I wanted to do create material objects with my hands. So a few years ago I said sayonara to Adobe Illustrator and took to carving lino.
I think film making and printmaking have a few things in common – they are both quite mathematical in approach and require a good deal of physical effort. You have to plan in advance, be precise, get your fingers dirty and be able to improvise. In film making you have to focus on the story without being carried away with too much detail. This is a good rule in printmaking, too, and I find that the limitations of color and detail are a positive challenge and inspiration.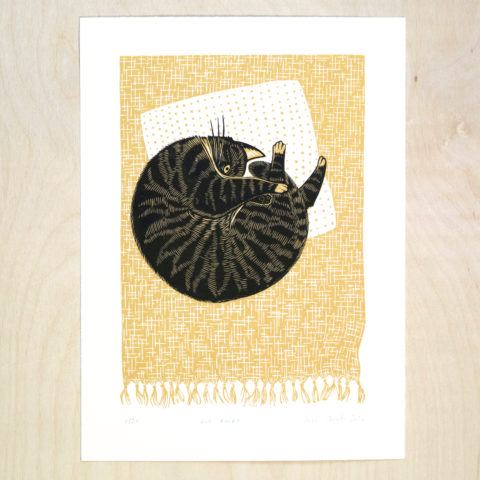 How would you describe your work?
Linocut prints are a medium which allow me to play with subtle nuances, such as the texture of paper or opacity of ink instead of bold storytelling. I am trying to implement some aesthetic values from Japan into my work – simplicity of form, precision of details, certain amount of imperfection. My work is focused on nature, which is my ultimate inspiration.
What's the first thing you ever remember making?
I can't really recall the first thing… I was always drawing or sculpting or sewing something… from miniature paintings of birds to handmade dolls and rucksacks.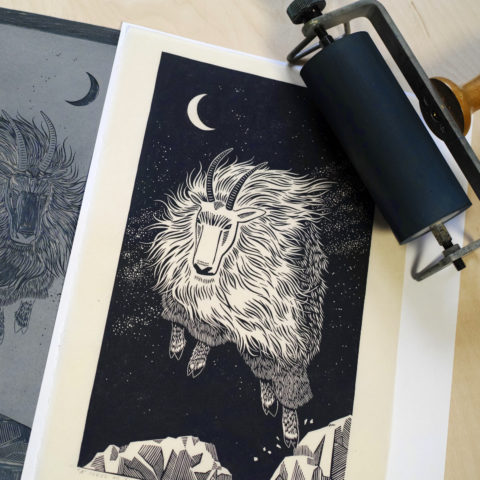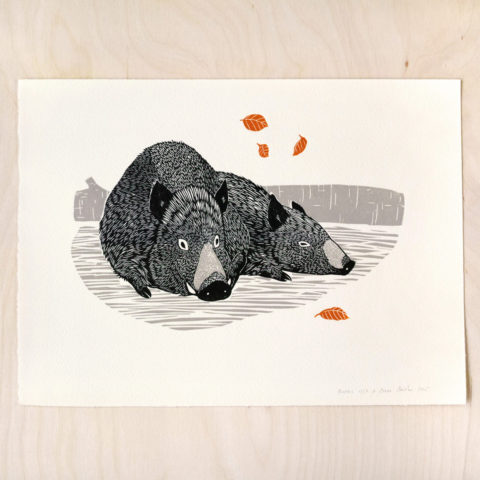 What are you currently working on, and why?
I am continuing the series of animal prints. I think it is important to portray nature with art these days more than ever. My main subjects are animals which have spiritual contexts in many cultures and stir a lot of emotions – such as bears, wolves, wild goats – and are being senselessly killed by humans, based on the prejudices coming from ignorance and false myths. I am also preparing a series of floral textile patterns. It has been my dream for many years and this year I decided to stop dreaming and start doing it!
Do you have a dream project (or two)?
Yes! Many! Getting my handmade prints to be published as book illustrations. I would also love to start a small fashion line with my own textile designs.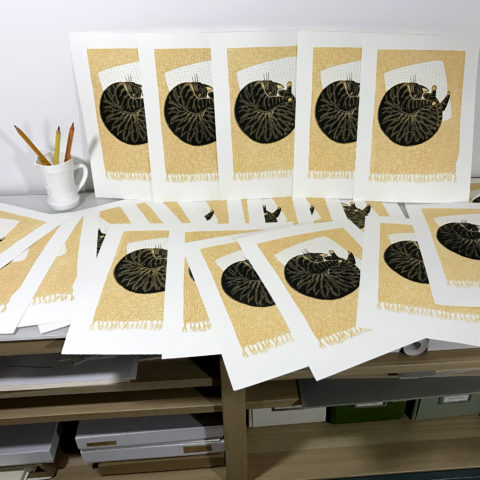 What's next?
More abstract forms in linocut prints. Additionally I want to explore other media such as gouache and acrylic painting in a full color palette. I have a secret hope that one day I can incorporate animation into my work again.
What advice would you give to someone who is just starting out?
Experiment a lot. Don't try to imitate drawing or painting with printmaking. Let the technique guide you, test your tools on different materials, get yourself dirty with inks. Printmakers are a wonderful, international community so go ahead and ask a lot of questions.
What do you want readers to know about you or your work?
Hmm… maybe that it takes me a lot of time to make an edition of prints. Sometimes I carve the block twice to achieve the desired result.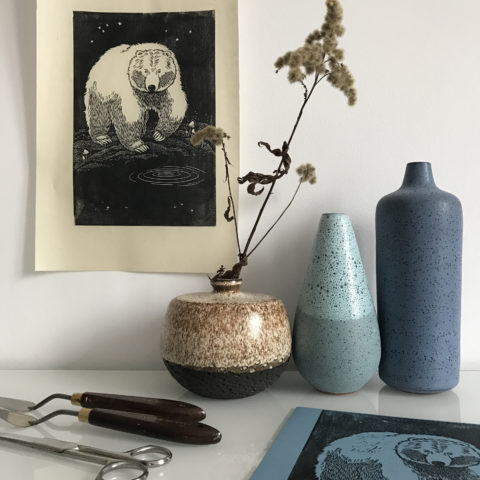 How can people find you? (website, shop, Instagram, Facebook page, Twitter, etc.)
I have been meeting a lot of wonderful people on Instagram. This is where we met too! I also use Facebook a lot for my local contacts.
Website and Shop: ateliermisko.com
Instagram: zuza_misko
Facebook: follow me as Zuza Miśko Wiskirska, I don't have a page right now.