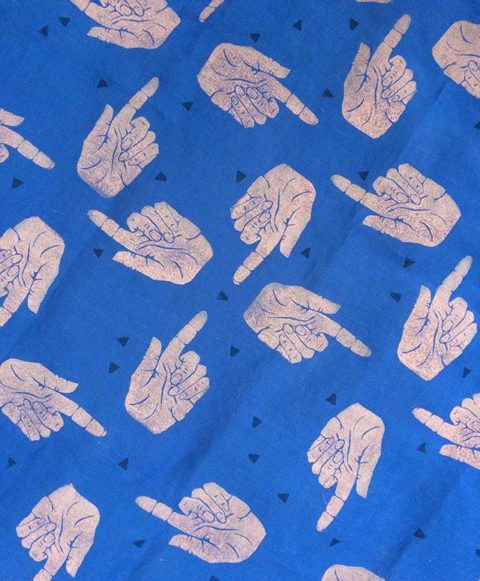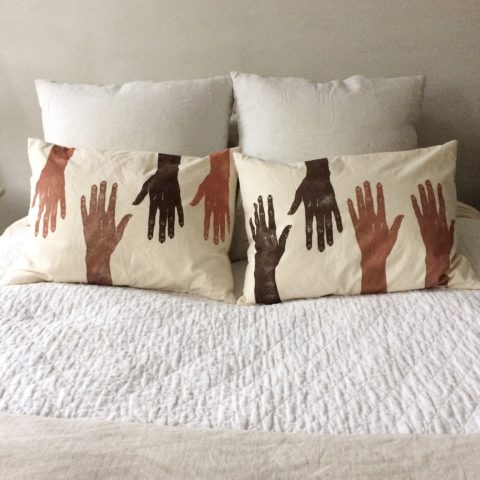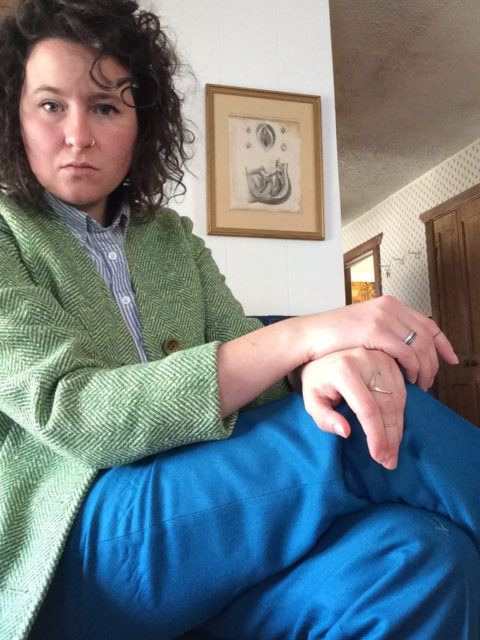 I met Paige Simpson on my first trip to Hudson, NY, where she lives and works. Paige took one of my classes, and quietly produced a stunning print of hands (and gave me a yard of that fabric as a souvenir). Since then, Paige has gone on to create quilts with her fabric, and is now collaborating on a small collection of hand-printed clothing with her mom.
Paige also teaches at Drop Forge & Tool, and is hosting a silkscreen party for Valentine's Day. You can find more information here.
When kids say that they want to be artists, most grownups assume that they want to become painters or illustrators (or, occasionally, sculptors) – but never printmakers. How did you find your way into this medium? What other media do you work in?
I remember doing one linocut in high school. I liked the challenge of making the image into a repeat pattern. However, when I got to college I was captivated by the printing processes. Each traditional printing process is different from the next, and from any other art form I had done previously. I loved carving blocks, developing plates, making monoprints and then seeing the result after it was rolled through the press. Each step really required me to slow down and be more deliberate with my choices.
I went to Keene State College in Keene, NH which is the same city I was born in! I have a BFA with a concentration in printmaking.
But after college I actually stopped printing. Until recently, I had been quilting a lot, occasionally painting and drawing. I struggled with finding purpose in the work I was making that inspired me to continue producing so I gravitated toward utilitarian endeavors. I circled back around to printing after I took your workshop at Drop Forge & Tool almost a year ago!
How would you describe your work?
My work is very graphic but with a narrative quality to the hands. Each hand is different and each gesture is unique experience or communication.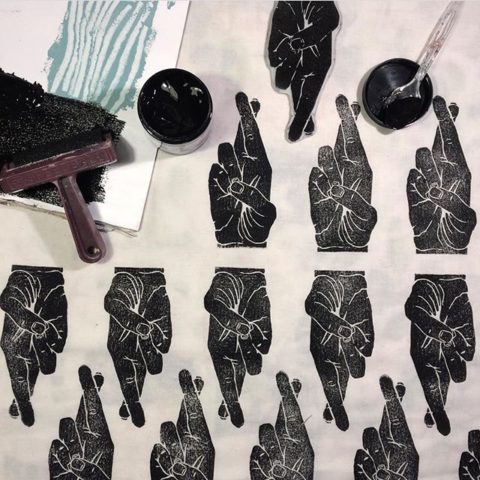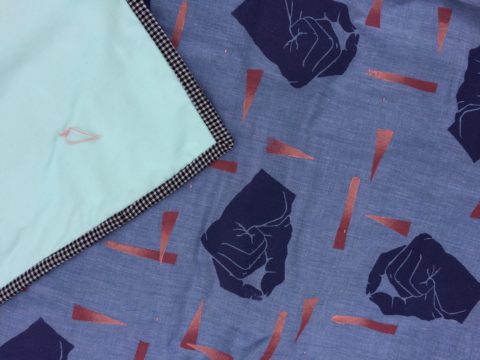 Images of hands are a big part of your work. Is there a narrative behind this? What does this image mean to you?
I love the history of handwork (quilting, knitting, embroidery) as a silent action that creates communal opportunity, traditionally but not exclusively for women, to develop relationships and share their wisdom. Lending someone a hand is the most powerful catalyst for building a community. Laboring side by side is what offers a chance for two different people to express and listen to each other with mutual respect. Each of my hands I want to be a silent communication. An illustration of a moment that creates opportunity for connection. I always draw my hands from my own lens so the viewer too could imagine their hands in each image.
I've always felt more competent expressing myself by using my hands rather than words or voice. So they are also my most precious tool!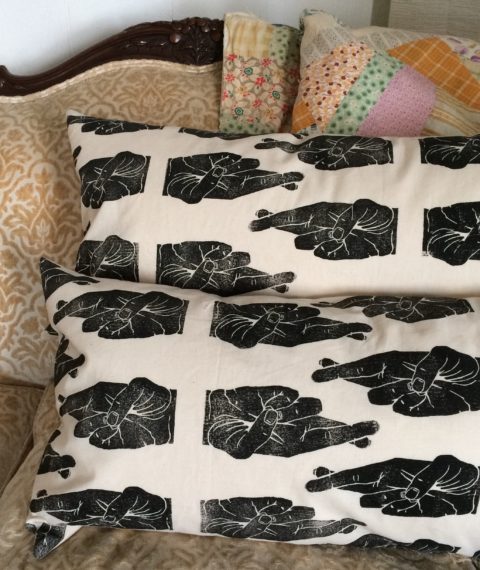 What's the first thing you ever remember making?
One of my earliest memories is the smell of crayons. It is still one of my favorite smells. My parents would bring them everywhere as my entertainment system. So probably a portrait of my childhood dog Pluto, a yellow lab, likely done in purple crayon.
What are you currently working on, and why?
I'm working on a collaboration with my Mom, Jane! She's an artist too, and is sewing simple tops and dresses. And then I'm am printing all over them. We are going to have a show in March in my hometown, – Dublin, New Hampshire.
Do you have a dream project (or two)?
Yes! I want to make larger quilts, full and queen size, but I have a itty bitty space where I make all my things.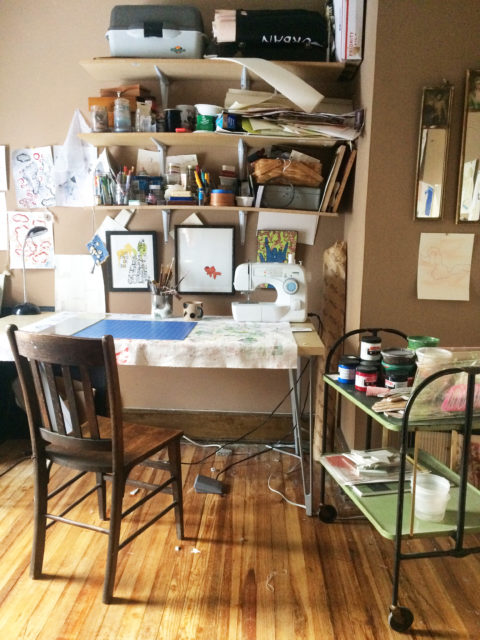 What's next?
Trying to spend more time making things and devising a strategy to create a more streamlined process for my work. Or accepting that streamlining might not be my thing and coming up with a different strategy.
I have also been curious about painting on fabric, bringing in another element other than block printing that is more gestural. Adding more movement spontaneity and depth is what I want to explore.
What advice would you give to someone who is just starting out?
For any creative endeavor be forgiving and patient with yourself. Make sure everyone around you is doing the same.
What do you want readers to know about you or your work?
Each piece takes a really long time to make into a complete object. I carve all of my blocks from drawings. Each hand on a textile is individually inked and printed. Then I try to create something from the textile that someone might want to buy.
How can people find you?
Shop: paigeofcontent.com
Instagram: @paigeofcontent
Twitter, Pinterest: @paigeofcontent