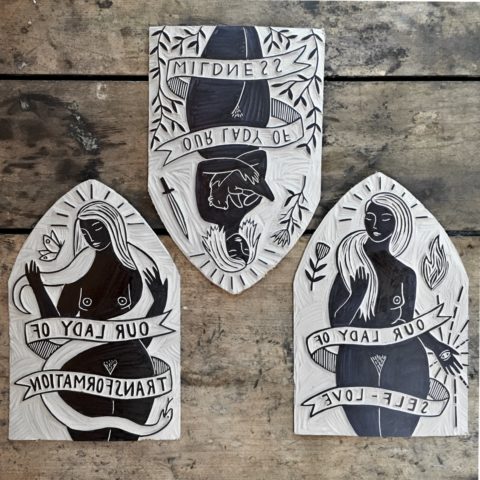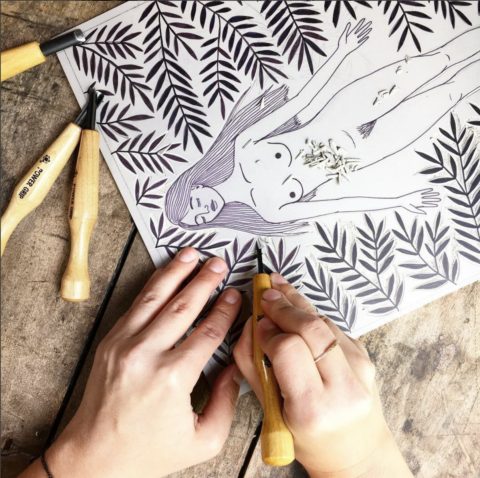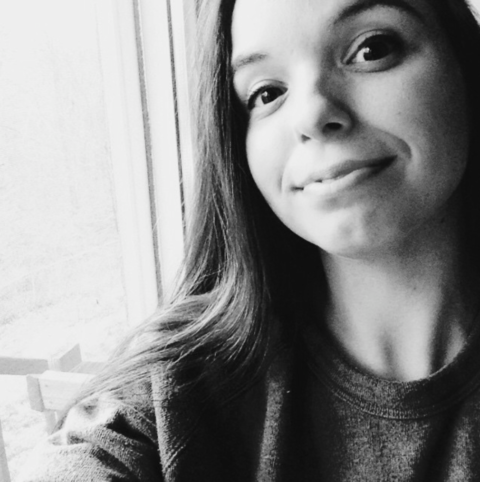 I originally found Emily Howard (aka "The Diggingest Girl" through Instagram, when I was searching for printmakers with diverse voices. I was taken not only with the beauty of her prints, but also with the way that she quietly weaves a narrative throughout her body of work.
Emily went to the University of Kentucky for undergrad, achieving a Bachelor of Fine Arts in Painting with a minor in Art History in 2006, received a Master of Fine Arts from the University of Cincinnati in 2010, and finally a Master of Visual Art Education with K-12 licensure from the University of Cincinnati in 2012. She currently lives in Erlanger, KY.
JH: When kids say that they want to be artists, most grownups assume that they want to become painters or illustrators (or, occasionally, sculptors) – but never printmakers. How did you find your way into this medium?

EH: I didn't encounter printmaking until my final semester of undergrad at the University of Kentucky. I was initially intimidated by my professor, Derrick Riley (of DRock Press), but he opened my eyes to a way of working that suited me fantastically. There was something about it that was so bold and unfussy, and every printmaker that I encountered seemed like such a badass – exactly the way I had always perceived an "ideal" artist to be.
Additionally, I love the ritualistic, repetitive nature of printmaking – a thousand tiny flicks of the gauge, the kiss of the brayer, the endless spinning of the press handle, watching the drying rack fill up – the process is like long, transformative prayer.
Both of my fine art degrees are technically in painting, though my first Master's thesis was in sculpture and my second focused on embroidery. I also do a bit of mural work with a local nonprofit. I'm a little all over the map artistically, but I find that each discipline informs and enriches another.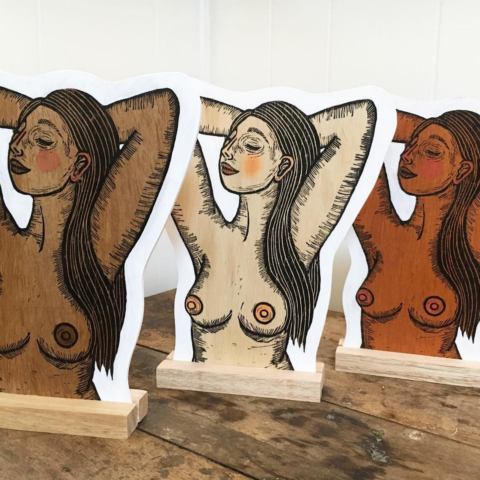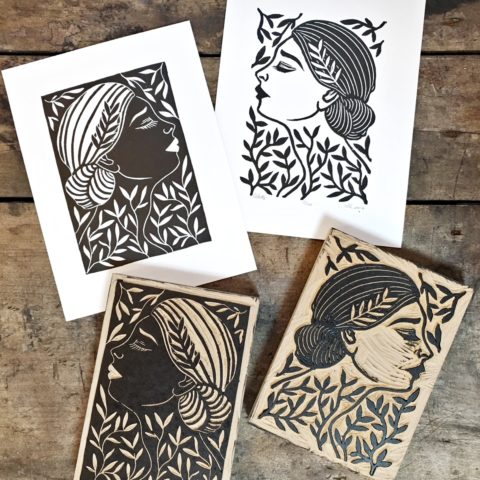 How would you describe your work?
I would describe my work as folksy, feminine and narrative.
Your artist statement, which details the narrative that binds your work together, is just lovely. For those not yet familiar with your work, can you share that narrative and how that intersects with your personal history?
So I've been "writing" a little folk tale for the past decade or more that features a young girl growing up in Victorian Appalachia whose father is kidnapped by the wolves of the woods. His spirit is trapped in the body of a raven and the girl, Lonna, goes on an epic quest to save her father's soul. She can't do magic per se, but she has power. I sometimes feel as though I am making images for her and sometimes as her. Her character is a part of me, and I sort of project events and struggles from my life onto her. The whole story started as a way for me to deal with my parents' divorce and the death of my paternal grandmother. Lonna and the wider cast of characters don't always make it into every piece I do, but the spirit of the story- the pull of magic just beyond on reach, the call of adventure, abandonment, sacrifice, love, redemption, blood rites, animals who seem to know more than we do – some or all of those things are present.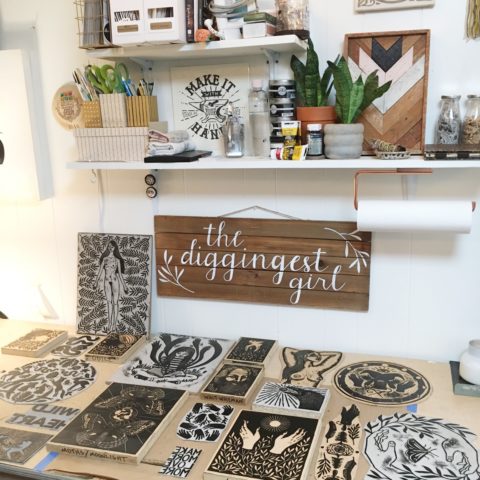 What's the first thing you ever remember making?
My mother always kept me busy with hands-on projects when I was little – I remember carving faces into peeled apples with a spoon that we would then let dry on the windowsill and we'd call them "shrunken heads." She let me draw on every surface I could find – the underside of the kitchen table, even my bedroom walls! I also used to sew with my grandma, and I would make teensy little quilts for my vast collection of animal toys. My cousin and I would also make "traps" for my dad by drawing nets onto sheets of notebook paper and laying them around the house.
What are you currently working on, and why?
My current project is a series of prints called "Saints for the Modern Woman" which is comprised of made-up saints for specific, contemporary feminine concerns. We struggle with so much: self-image, having our bodies policed & legislated, taking up space in the world, "having it all," the list goes on and on. The first in the series is "Our Lady of Self-Love" because I feel like self-love and self-appreciation are the first steps to living an enlightened, rich life. The idea occurred to me in this specific moment in history because I want to lift up, empower, encourage and comfort other women. They'll come with a little prayer/mantra, too.
Do you have a dream project (or two)?
I've been lazily weaving sort of an epic story in my brain for the past decade that I swear I'll put to paper eventually. I have accompanying illustrations that go with it. I would love the time, money & permission to work on it exclusively.
Additionally, I'd love to do an artist residency someday.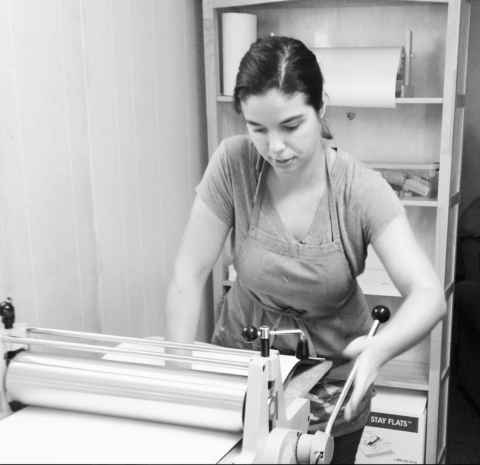 What's next?
Well this time of year is for re-building my inventory and creating new products. So my forseeable future is: carving, printing, carving, printing on repeat until my hands fall off.
What advice would you give to someone who is just starting out?
Trust your vision, even if no one else does because your gut and your heart will nearly always be right. Take lots of risks with your technique and your taste before you settle into a "style." Observe others who are doing what you want to do and don't be afraid to ask them questions. Keep your studio tidy. Pepper it with things that bring you joy. Read lots.
What do you want readers to know about you or your work?
I guess I want readers to know that everything I make comes from my heart and is made by my hands. I take a lot of pride in the handmade nature of my work. I design and carve each block by hand. When someone wants to trade their hard-earned money for the work of my hands to put in their own sacred little corners of the world… well, it's an honor. I'm grateful to do what I do.
How can people find you? (website, shop, Instagram, Facebook page, Twitter, etc.)
Website: thediggingestgirl.com
Shop site: thediggingestgirl.etsy.com
Instagram: @thediggingestgirl
Facebook: @thediggingestgirl