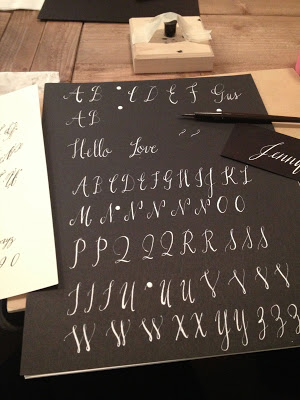 I've loved taking classes as a grownup. I learned how to screenprint at a drop-in class when I was 34, I took a collage workshop at Teahouse last year (which led to my first-ever show), and recently, I took a calligraphy class at Makeshift with Maybelle (and that may lead to a fun collaborative project). Classes are a great way to learn new skills, brush up on old ones, and discover new passions.
So, I've compiled a little list of classes that you might be interested in:
Pen and Ink 101 with Megan: Learn the basic techniques of pen and ink illustration in this two-and-a-half hour class at Makeshift.
Diana Fayt is teaching The Clayer, a six-week clay e-course. During the six weeks she  will cover various surface applications on clay such as: mishima inlay, monoprinting on clay, carving and printing with your own block prints.
And, if you're tired of spending time online instead of creating all those things you say you want to create, Tiffany is leading a 30-day Social Media Rehab. It's not *quite* a class, but it will give you time to work on your creative projects.
So, go out and learn! Have fun! And have a wonderful weekend.