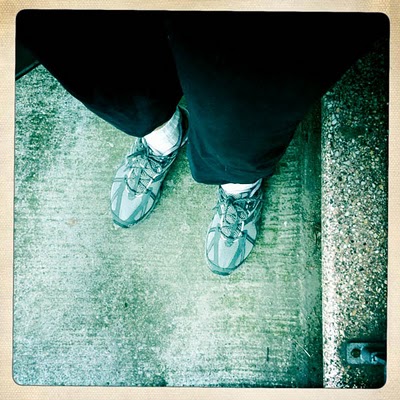 I started running again recently. This wasn't a New Year's resolution (I tend not to believe in those, except for the "always wear matching underwear" one I'd made a few years ago that I've, incredibly, been able to keep). Rather, at Christmas dinner my uncle asked me if I still ran, reminding me that my 14-year-old self loved to run and making me wonder why, over the past two decades, I'd come to hate it.
So I decided to give running a try again. On my first run, I realized that I'd stopped running because I was no longer a great (okay, even a good) runner. I'd wanted to be fast, to do well in races, to sprint to the end like I did when I was in high school. But twenty years had passed and I was (am) slow and out of practice. A few minutes into my run, I decided that being a pokey, thirty-something, recreational runner was okay. I had nothing to prove. I could run as slowly as I wanted to, I could stop after two miles. I was the only one who cared about the quality and speed of my run.
I've noticed that as I've gotten older and become more confident, my work pace has slowed down. I take the time to make something excellent, rather than speeding through it just because I want it finished. When I print, I make many little adjustments and checks as I go along, slowing down the process, but ensuring that I produce better-quality work. I no longer try to pound work out as quickly as I can. Instead, I relax and enjoy the flow that comes from seeing the process not just as a means to an end product, but also as a valuable experience on its own.
This means that I throw out work that I don't love, but it also means that I love what I do, even if I don't love everything I produce. It also means that I easily forgive myself when – as happened this week – I spend a lot of time working on something that doesn't turn out quite right, and I have to start all over again.
I like this new slowness. It's definitely a sign of maturity, but, more importantly, it's a sign that I'm becoming more comfortable in my artist skin.