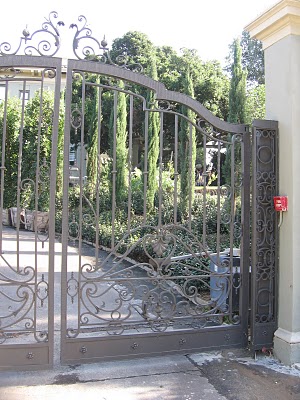 LA loves its gates. Gates to protect driveways and front yards and neighborhoods. Grills on windows and doors to keep strangers from coming in (or to keep your teenagers from sneaking out). Some, like the one above, are incredibly beautiful; most are bland and banal.
I walked around my parents' LA neighborhood taking photos of gates: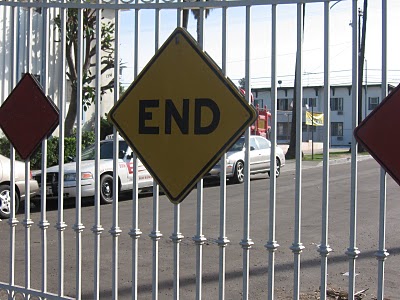 Boring city-issued gates marking the border of a gated community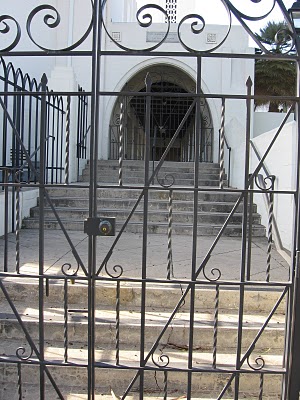 Simple ironwork that nicely complements the architecture of the neighborhood LDS church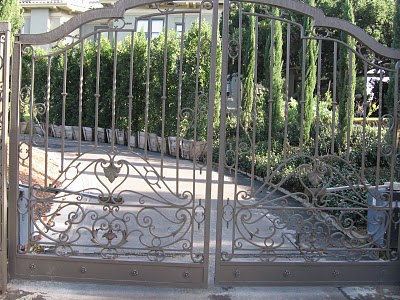 Large, intricate gates protecting the Milbank House's circular driveway
What do gated homes do to a neighborhood? Possibly because the neighborhood itself is gated off, houses in my parents' community have fewer bars and gates than the surrounding areas. The neighborhood is perceived as safer, groups of kids run across front lawns, adults walk their dogs and stop to talk to their neighbors, who are outside gardening.
But a couple of blocks over, beyond the gated community, houses have thick, black bars on their windows. Fewer people seem to be walking around, fewer kids play outside. I'm not sure those neighborhoods are any less safe; maybe all those bars just look so menacing that residents would rather stay inside.
Personally, I'd take a completely gate-free neighborhood any day. I like living somewhere with a strong sense of community, where I know my neighbors, where I can walk around freely, where people aren't constantly trying to shut the world out.