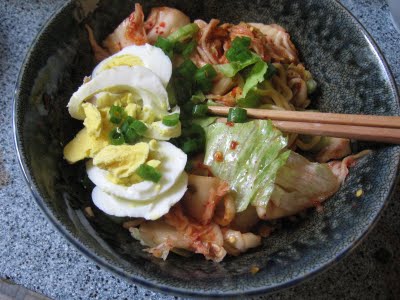 I don't know why, but I've had strong cravings for kimchee lately. Kimchee is one of those dishes that I usually eat as a special LA treat – my family and I head to one of many Korean barbecue places in my parents' neighborhood to gorge on table-grilled bulgogi. And while I do love grilled meat, I love the Korean side dishes/condiments more – potato salad, marinated radishes and cucumbers, and, of course, kimchee.
Since I don't regularly grill meat at home, I hadn't really thought of having kimchee at home. But when I found this recipe for kimchee noodles, I suddenly had a reason to buy – and eat – kimchee.
The recipe is pretty easy. I had most of the ingredients, but substituted Chinese egg noodles for the somen and added a hard boiled egg and green onions (my Filipino roots demanded this), lettuce and thin cucumber slices.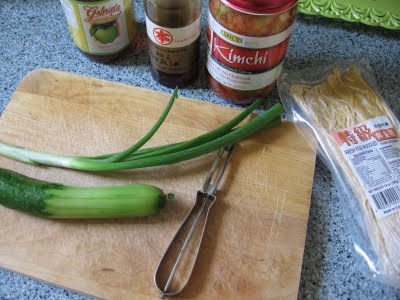 I asked Mrs. Park, who owns the market across the street, if kimchee was difficult to make. She said it was. I'm not sure if she was telling me the truth, or if she wants me to keep buying kimchee from her. I may have to learn how to make it soon just so I can have it every day.
Recipe is here.