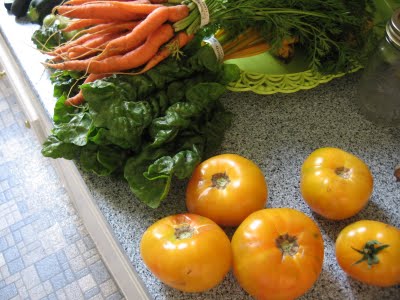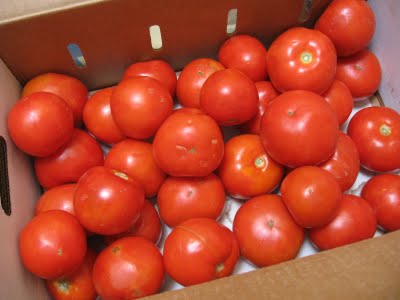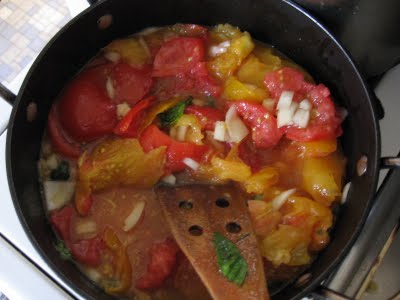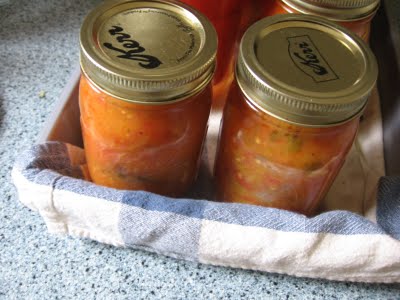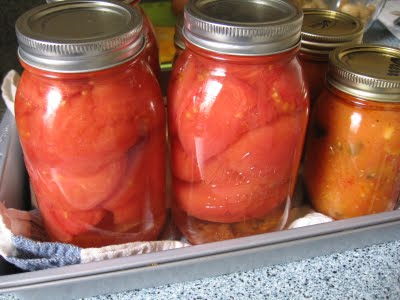 I'd been planning to can tomatoes for a month or so, but hadn't actually gotten around to buying the tomatoes. Turned out I didn't need to buy any – after I finished my farmers' market volunteer shift yesterday, one of the farmers gave me a box of tomatoes. A 20-pound box of tomatoes.
Using just half the box, I canned five quarts of tomatoes for the winter and make three pints of sauce (using this recipe). The Joy of Cooking has a simple tomato canning recipe. Essentially, you sterilize your jars in boiling water, peel (but don't seed) your tomatoes, then cut up the tomatoes so they fit in the jars. Add enough boiling water to the jars to cover the tomatoes, then cover the jar with a new lid, screw on the band, and process in boiling water for 45 minutes. So simple. Really.
I still have fifteen tomatoes, so I'll make another batch of sauce, can almost all of the rest, and save a few for gazpacho. Or for Bloody Marys.