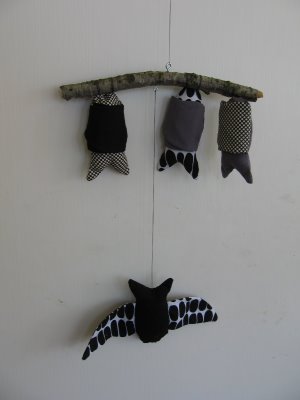 Remember my Bat Mobile? It was the first item I listed on etsy that got mad hits. I think that by the time I sold it, it had been on the front page three times, and had been viewed by over 2000 people. I've had many requests to make more, but I decided to focus on printmaking instead.
But now, just in time for Halloween, I've created the pattern for the bats of the Bat Mobile so that you can make one (or more) of your own. This free pattern is available here, and is intended for personal use only. Please don't resell the bats or the mobile but feel free to make as many as you'd like.
Enjoy – and send me your photos so I can create a gallery!