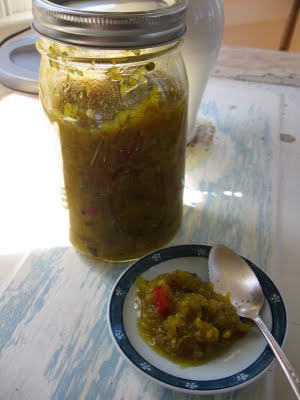 My friend Chrissy was raving about zucchini relish she had made. Since (1) zucchini is plentiful and cheap right now, and because (2) this recipe can be easily canned – and I do love to can – I had to make it.
It is very tasty. Chrissy said her husband devoured half of it in one evening. Since I have no husband, I think my relish will last a little longer than that. Basak is coming over for a slumber party tonight, so I'll be making some relish and cheese sandwiches. With this bread. And a few avocados. And a glass of wine.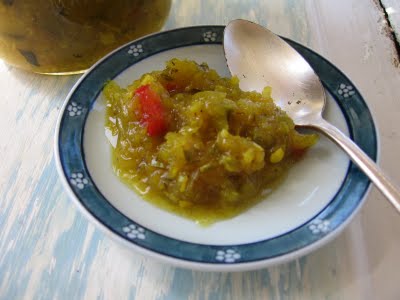 Zucchini Relish
4 c grated zucchini
2 c grated onions
6-1/2 t salt
1 cup diced green pepper
1 cup diced red pepper
2-1/4 c sugar
1-1/4 c white vinegar
2 t nutmeg
2 t dry mustard
1-1/2 t turmeric
1-1/2 t cornstarch
1 t celery salt (I used celery seeds mixed with salt)
1/4 t black pepper
1. Place zucchini, onions and salt in a large bowl; mix well and cover. Refrigerate and cover. The next day, place mixture in a fine strainer. Drain well, rinse under cold water, and drain again for 1 hour.
2. Place mixture in a heavy pot with remaining ingredients. Bring to a boil and simmer, stirring occasionally, 30 minutes.
3. Cool completely and store, covered, in the refrigerator for up to 4 weeks. Or sterilize 3 or 4 pint-sized canning jars in boiling water, Fill with relish, seal, and process in boiling water for 10 minutes. Carefully remove jars with tongs. Let rest until relish comes to room temperature. Store in cool, dark place for up to 6 months.