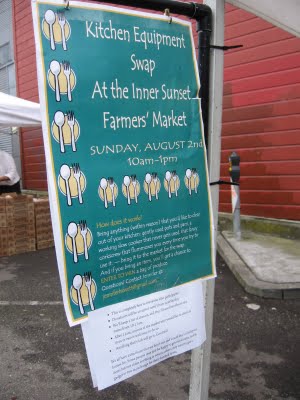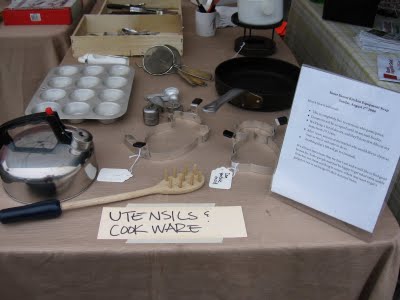 Last Sunday, I hosted a kitchen equipment swap – inspired by a similar event run by 18 Reasons – at the Inner Sunset Farmers Market. I'd thought this would be a great way to give the market a more neighborhood feel – neighbors sharing their resources with each other.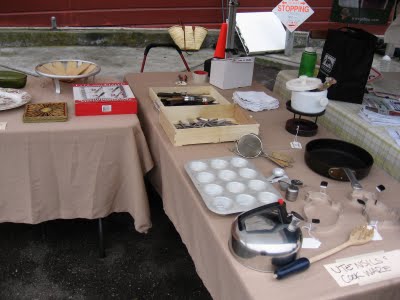 I'd originally envisioned the swap as a true swap – anyone who donated their kitchen equipment got first dibs on items others brought in. But when I realized that most people who dropped items off really didn't want anymore stuff, I opened the swap up to anyone in the market.
It was a smashing success. At first, people were a little wary of a table of free items at a market – I was repeatedly asked "Why free?" – so I explained that their neighbors had cleaned out their kitchens and wanted to share their unused items with them. Some went home and came back with a box of plates or an old crock pot. I had four waves of donations and had very little left over to take to Goodwill.
One guy stopped by looking for a garlic press. We didn't have one. He came back a couple of hours later with a box of utensils. While he was gone, someone had dropped off a garlic press. He folded it up and dropped it into his shirt pocket and left.
Another woman walked by and saw a large turkey platter (which I had found on the street years ago). She said she used to have one that had belonged to her late mother-in-law, but she had broken it. She was shocked when I told her to take it – for free! – and practically hugged it, tears in her eyes.
And a bunch of twenty-something guys – housemates – stopped by and relieved me of all my teaspoons. Apparently, they had no spoons. I didn't ask.
I'll probably host another swap whenever the market has space for me. People dropped by the info booth at yesterday's market to drop off their old kitchenware! Looks like we've started something good.