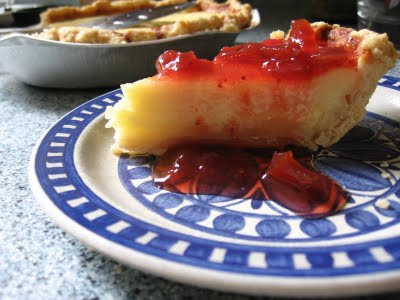 I was trying to find a use for the buttermilk I had left over from making these biscuits when I just happened to find a recipe for buttermilk pie in the September 2008 issue of Better Homes and Gardens. I made it and topped it with my strawberry-rhubarb jam. The pie is delicious – like a lighter cheesecake. How have I lived this long without ever having eaten buttermilk pie? My only beef with this recipe is that you have to refrigerate it for a few hours before eating it. I prefer to eat my desserts immediately after I finish making them.
Anyway, the recipe:
Buttermilk Pie
Crust
1/2 tsp salt
1/2 cup shortening, at room temperature
3 T water
Heat oven to 450F.
Mix flour and salt together. Mix in shortening – you will need to work it with your hands until it's crumbly. Add in water, 1 tablespoon at a time.
Lightly coat a smooth surface with flour. Roll out the dough into a 9″ round. The key when making a good dough is to use as little flour as possible while retaining elasticity. Line a 9″ pie pan with the dough. Pinch the edges. Bake for 12 minutes, or until the edges are lightly brown. Reduce oven temperature to 350F.
Filling
1/2 cup butter
1 cup sugar
3 T flour
3 eggs
1 cup buttermilk
1 t vanilla
In a saucepan, melt butter over medium-low heat. Stir in sugar and flour. Remove from heat and set aside.
In mixing bowl beat eggs just until fluffy. Stir in buttermilk and vanilla. Gradually whisk buttermilk mixture into butter mixture until smooth. Poor into pre-baked crust.
Place pie on oven rack. Bake 50 to 55 minutes or until center is set when gently shaken. Cool on wire rack for one hour. Cover and refrigerate at least four hours before serving.
You can top with a fruit spread, such as jam, or eat without topping. Serves 8-10.