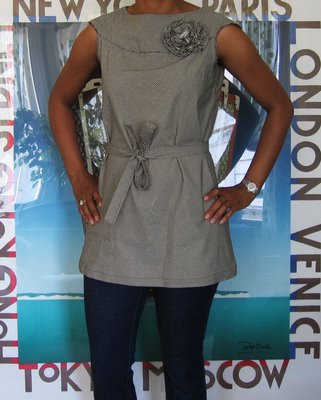 Not having a job means not buying new clothes. And while not exactly a shopaholic, I do like a little variety every once in a while. Wearing the same jeans and blouses every day had gotten really boring, and most of my work clothes are pretty dresses and skirts that (1) require expensive dry cleaning, and (2) would just get covered in dog fur if worn around the house. A garment refurb was in order.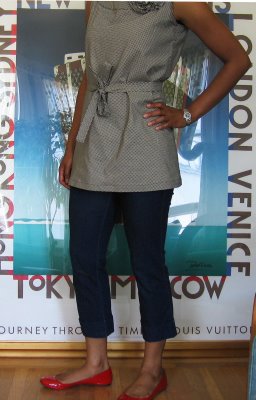 Remember this dress? I hadn't worn it much so decided to chop off the bottom and make it into a tunic. Et voila – I have an almost-new top that is cute, machine-washable and not yet covered in dog fur. In celebration of Bastille Day, I'm wearing it with capri pants and red flats. I shall hop on my bike and pretend I'm 1960s Brigitte Bardot pedaling to a rendez-vous somewhere in the south of France.
And I haven't forgotten about my promise to post a weekly recipe. I've made a couple of peach cobblers – needed to get the recipe just right – and have taken a few photos. First, I must have a slice for breakfast.
Happy Jour de la Bastille!