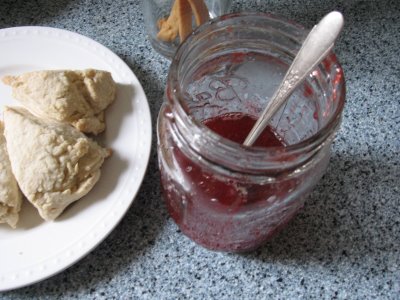 This is how we eat jam at Jen and Jake central – with a spoon. Oh, and with leftover scones I just happened to have handy. But eating this batch of rhubarb-strawberry preserves with a spoon is almost required. This is the first time I've ever cooked rhubarb – and the first time I've ever eaten it! – so I just had to taste it without being distracted by a scone.
Delicious. The rhubarb adds a depth to the jam. With each spoonful, I taste something different.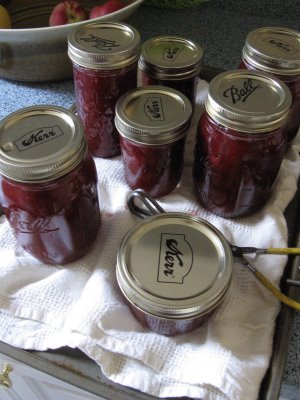 I used a simple recipe from The Joy of Cooking. It's essentially this: mix a quart of chopped rhubarb with two quarts of sugar. Let the mixture sit overnight. Bring the mixture to a boil, add 2 quarts of hulled strawberries and boil for 15 minutes. Ladle into prepared canning jars, seal and do the final canning boiling step.
But make sure to save an unsealed bottle of preserves for immediate consumption. With a spoon.