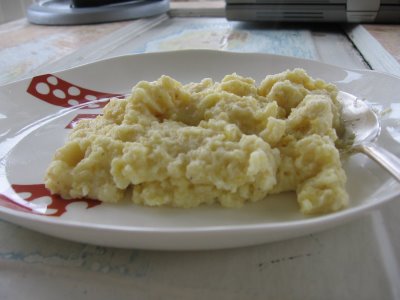 I'm usually a yogurt and granola for breakfast kind of girl, but lately I've been running around so much in the mornings that I want something heartier. My favorite rib-sticking – but not heavy – breakfast is cheesy polenta (or grits, depending on what I have in the house) with scrambled eggs.
It's an easy dish to make. The general ratio for liquid to cornmeal is 3:1. Take one cup of cornmeal, mix it with one cup of water. Boil the other two cups of liquid (I usually do 1-1/2 cups of water and 1/2 cup whole milk), add the cornmeal mixture and whisk quickly to avoid clumping. Turn heat down to low and cook for around 5 minutes, stirring occasionally. Add a tablespoon of butter, some salt, and a bit of cheese (cheddar, jack and parmesan are all good). Serve with eggs scrambled with spinach.
I'm off to the studio this morning to pull two new prints. Next week, I'll need to reprint a few items since the Museum of Craft and Folk Art placed an order for a few prints, depleting my stock! And I've applied to do the Renegade Craft Fair in July… I will be a busy girl for the next month and a half.