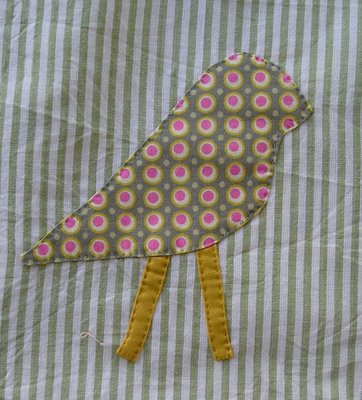 I'm making my mom a dish towel or two for her birthday. I'm drawing inspiration from a couple of cute ones I saw at Anthropologie for $18.
At first, $18 for a dish towel seems expensive. But, if you're paying $18, that means Anthropologie bought it for $9 (max). And the manufacturer's costs for labor, materials, shipping, and overhead couldn't have been more than $4.5.
Think about it – if you sew for fun, you know how long any slightly elaborate applique and embroidery takes. I think the cutting, pressing, pinning and stitching on this towel have taken me four hours so far. I probably have another two hours to go. Maybe an experienced seamster with pre-cut fabric could do all of this in an hour.
So, how much do the people who actually piece and sew these items make? Can't be very much (at least by US standards). Don't get me wrong – my mom is from a developing country, where labor is cheap and people are happy to get whatever legitimate, regular work they can. People need to make a living. It just really made me think about what we pay for what we have.
So, maybe $18 for a pretty dish towel isn't that expensive. But I'll go ahead and make my own "knock-off" because I can – and because I want to.
(Oh, and I'll post photos of the finished products soon)