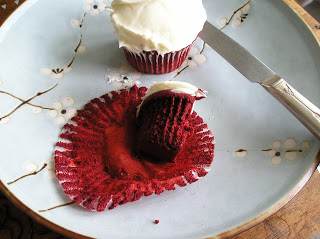 I carted my red wheelie basket to the Heart of the City Farmers Market this morning to get some supplies for the week (on this week's menu: fried squash blossoms, lots of tomatoes, and pickles). Two shy, teenage boys at the A Little Piece of Cake stand were selling red velvet cupcakes. Red velvet cupcakes – with huge dollops of cream cheese frosting! How could I resist?
But they didn't have many customers. I wanted to give them some advice – "pass out samples," "greet everyone who walks by," "hype up your product" – but I remembered what I was like when I was fifteen and figured the boys would probably roll their eyes as soon as I left. Oh well. They'll learn how to work a farmers market soon enough.
And the cupcakes? Delicious.