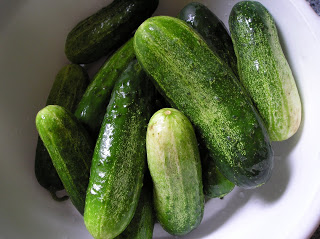 I love pickles. When I was a kid and my dad made our school lunches, he would wrap pickle quarters with a slice of bologna and American cheese and hold everything in place with a toothpick. My brother and I would each get three of these.
And in the summer, my brother and I would walk the three, long blocks (this was LA, after all) with our neighbors Starr and Sarai to the butcher shop where they kept five-gallon jar of pickles which we bought for fifty cents each. Starr and Sarai would buy one, then fight over who got to eat the "pickle booty." My brother and I were slightly more affluent and each got our own pickles.
So, last year, I noticed a whole group of Russian ladies elbowing each other out of the way at a stand at the farmers market. When I got closer, I saw that they were competing for the best pickling cucumbers.
Well, I thought, I should give pickling a try. I've canned many other things. How hard can making pickles be?
Turns out, it's really simple. It's even simpler than making jam. So I added making cucumber pickles to my list of canning activities last year. They were incredible.
So far, I've made two batches this year. I end up giving most of them away, and save a couple of jars for myself.
Only problem? What once was a hippyish, old-fashioned pastime has become a trendy, crafty hobby. This article in the LA Times says that pickles are the new, "it," schmancy restaurant condiment. And once ReadyMade magazine ran an article all about canning, it became hip to can. That means finding pectin and canning jars is that much harder come summer.
Anyway, if you want to try your hand at this, the recipe I follow is here. Photos from my latest canning session are below.