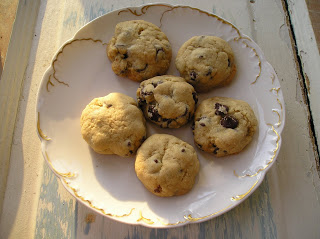 I saw my new, lovely doctor for the first time last week. After she looked over the list of food i regularly eat, she said, "You're not much of a junk food eater, are you?"
Well, I am. I just happen to make my own junk food.
I made a batch of these chocolate chip cookies – without nuts – over the weekend (I know – I've been such a busy, crafty bee!). Now they're all gone… perhaps it's time to make caramel popcorn.