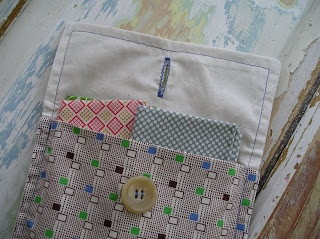 I'm slightly out of control with the handkerchiefs, so I decided to switch gears – to this handy hankie holder. I figured that if I couldn't see the handkerchiefs, I wouldn't be tempted to make more.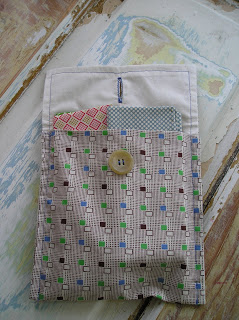 The holder is really simple to make and only takes 30 minutes.
Here's what you need:
– Two 8″ x 18″ pieces of fabric – one for the outside and one for the lining (I used muslin for the lining)
– One 1″ button
– Contrasting or complementary thread
And what you do:
1. Face the right sides of the fabric together. Using a 1/2″ seam allowance, sew around the edged, leaving a 1″ hole somewhere along one of the long sides. Clip the corners so that they will lie flat.
2. Pull the fabric through the 1″ hole.
3. Iron!
4. About 6-1/2″ from the bottom of the long side of your fabric, fold up the fabric (lining sides together). Fold the remaining fabric on top over for the top flap.
5. Iron again!
6. Sew the bag together using a topstitch with a 1/4″ allowance.
7. Find the center of the top flap. Mark 1″ with a piece of tailor's chalk. This is where you'll put your buttonhole.
8. Using your buttonhole foot and stitch settings, sew a buttonhole along your mark. Cut the hole using an exacto-knife or similar tool.
9. Mark where the button will go. Handsew the button onto the fabric.
10. Iron again, then stuff with hankies! Fold the top flap over and button closed.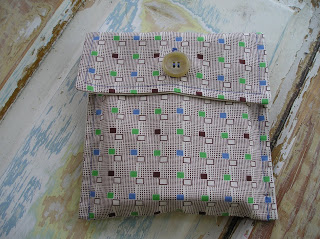 In case my instructions make no sense, I'll make another one and will take photos to accompany the instructions.