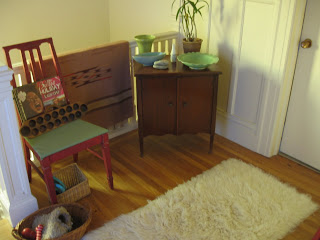 I have to admit – I love furniture. If I had endless amounts of money to blow, I'd spend it on expensive home furnishings. No IKEA for me – I'd go straight to Jackson Square, then fill in the blanks with items from the flea market, Room and Board, and DWR.
I don't hate IKEA; I've bought a chandelier, some table legs, a few lamps, and a dinette set from the store. But I'd much rather live with blank space or hand-me-downs from friends than buy an interim piece of furniture. And by "interim," I mean disposable. Down with flimsy veneer and particleboard and having to assemble your own shelves.
So, what's a girl to do when the perfect rug alone has at least a four-figure price tag (not to mention the perfect couch and perfect coffee table to accompany said rug)? Two options:
Live without until you can afford it.
Wait for someone who owns it to tire of it and part with it (then swoop in, respond to their craigslist ad with a cash offer… or pick it up off the street).
Number two has worked for me more often than not. I've just had to let go of wanting specific items and learn to accept what the universe sends to me.
And what the universe has sent me over the last few years isn't bad at all. For example:
Nightstands, found on the street. Free!
Chairs, $100 for the set of four at a yard sale (one day I'll reupholster).
Set of two red chairs, $5 because they were missing their seats. Gave my dad the seat dimensions, and he cut them from some scrap plywood. I covered them with fabric from Discount Fabrics.
BluDot shelves, bought used from a couple expecting a baby – they decided to get rid of all furniture with sharp edges. $250. I have been wanting shelves for three years. These are just about perfect.
And my living room… I bought the couch, chairs, ottomans, rug, and print from a friend. She and her fiancé were buying (and decorating) a place together, so she got rid of all furniture remnants of her single-girl life. Buying everything was a stretch for me financially in those days, but I've lived with and loved that furniture for four years now. I'll easily get at least eight more years out of the items, if I take care of them.
Because life is too short to live with crap furniture.