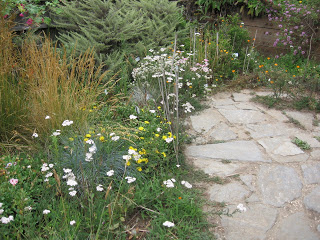 I was having lunch with friends in the Yerba Buena Gardens by my office, and mentioned that every time I contemplate a move back to LA, I realize I would miss the public spaces that abound in San Francisco. Whether by design or by accident, large and small open spaces abound in San Francisco.
The YerbaBuenaGardens borders San Francisco's financial and shopping districts – essentially a park in the middle of some of the priciest commercial real estate in the city. Craziness – instead of building another mall or office building, the city has put in a park that is filled with office workers during lunch, groups of kids throughout the day, and tourists looking at their maps and enjoying a bit of rare sun. During the summer, the park hosts music and dance performances for free. And while it's surrounded by restaurants and shops (there is a Starbucks in the neighboring Metreon), it manages to feel uncommercial.
On a much smaller scale, the San Francisco League of UrbanGardens (or SLUG) runs the Inner Sunset Community Garden on a narrow strip of land in my neighborhood. It's bordered by a busy street on one side and apartment towers on the other. It's an honest-to-god community garden, full of scrappy plants and vegetable beds and fruit trees. A whole section is devoted to native San Francisco plants. An old sink is rigged up to a water line. A tiny pond holds goldfish. And SLUG offers regular composting classes (in different languages, at that).
For an apartment-dweller who has no garden, the smallest open space can feel like a park, a respite from concrete and traffic and noise.