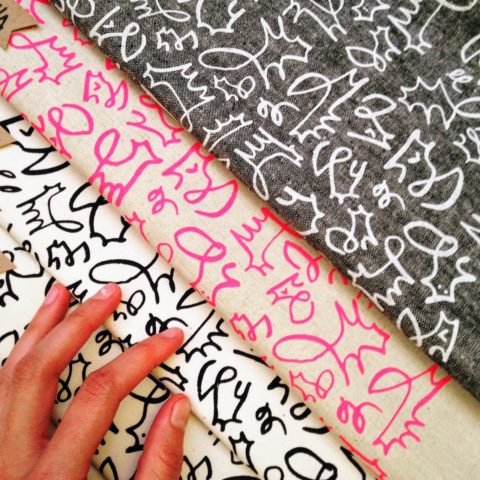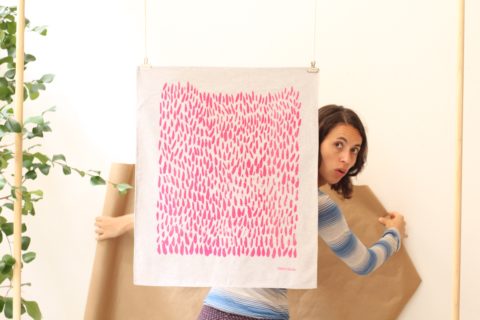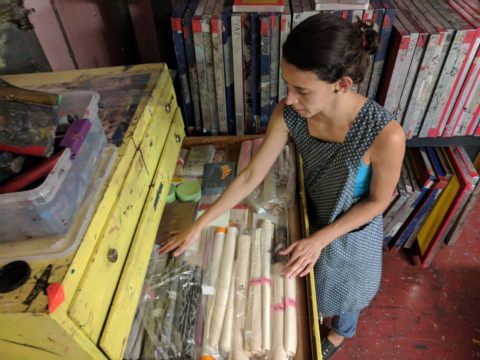 Because a lot of printmaking equipment (exposure units, large presses, wash out stations) is large and expensive, a lot of us have to work in shared printmaking studios at least part of the time. And one of the best things about working at the shared printmaking studio is getting to meet other printmakers and check out their work.
Sarah Alves (of Little by Little Things) is one of the printmakers I've met recently, and I was drawn to her bright, textured work (plus she's just a lovely person). Originally from Brazil, Sarah has lived all over the world, and is currently settled in San Francisco. If you're in the Bay Area, she'll be exhibiting at this weekend's Renegade Craft Fair, so stop by to see her work in person!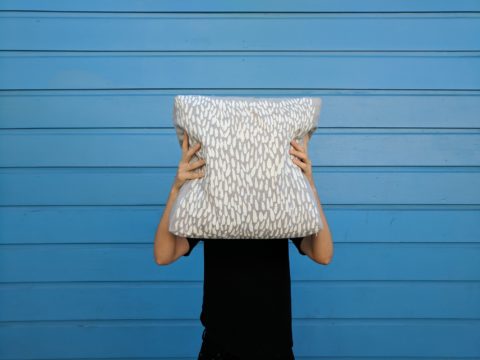 When kids say that they want to be artists, most grownups assume that they want to become painters or illustrators (or, occasionally, sculptors) – but never printmakers. How did you find your way into this medium? What other media do you work in?
I went to university in London and I studied something called Design for Moving Image, which was a cross between Graphic Design and Animation. I got to try my hand at all sorts of things but had the most fun with illustration, model making and stop motion.
It has been quite a long journey through circus, music, fashion, stop motion, photography, calligraphy… the list could go on. I think print making found me in the end. I love colour and texture and patterns and it gives me another outlet to explore new ideas and keep learning.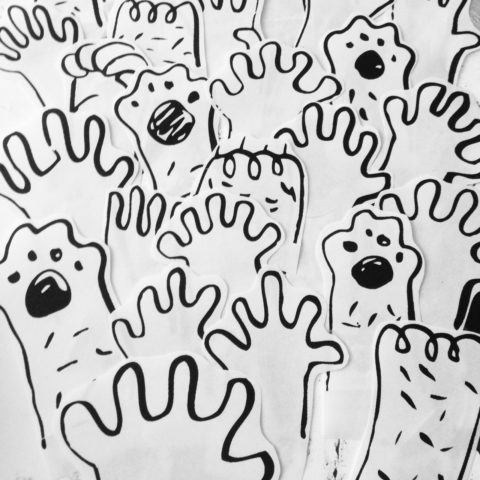 How would you describe your work?
That's a difficult one, but I think "playful" would do it. I'd probably describe myself the same way actually. I like to try and have fun with my work and I'm often suspicious of people that take themselves too seriously.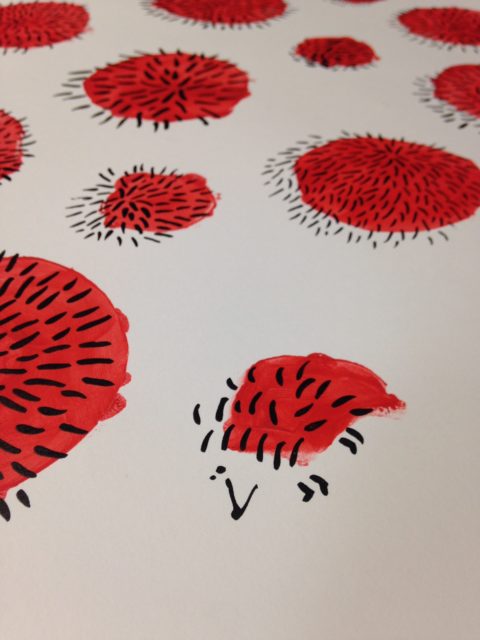 What's the first thing you ever remember making?
I don't remember ever not making things but I think this has a lot to do with where and when I grew up. In the mid 80's Brazil was a young democracy coming out of just over 2 decades of dictatorship – you just had to make do and be resourceful. I remember making clothes for my toys, board games, origami animals and even making our Christmas tree out of bits I found in the house. We didn't have too many Pine trees in the tropics then.
Is there a ritual or activity that is crucial to your practice? (For example, I have to go on a long walk every day – it's where I solve most of my problems!)
Definitely, I'm an animal of routine after all. Although the rituals have changed over the years.
In London my 30min bike ride to work really helped me clear my head feel connected to the city. For the dark Finnish winters in Helsinki I had a wonderfully cheesy Motown playlist to wake up in the mornings and start the day. Nowadays here in San Francisco a nice cup of coffee with our cat on my lap and the BBC world service playing will do me just fine.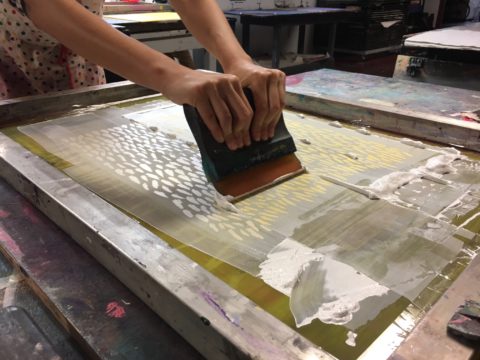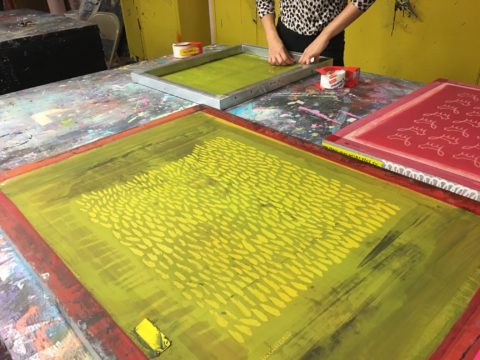 What are you currently working on, and why?
Right now I'm busy getting ready for the Renegade Craft Fair here in San Francisco. But I'm always thinking of new illustrations and patterns and I'm filling up my sketchbooks like never before.
Do you have a dream project (or two)?
I probably have too many really. I'd love to collaborate with brands like Marimekko and Hay, on any project really :) I also dream of running my own creative space one day. Where people from different creative disciplines can work and teach, and show and sell their work. And anything that give me the excuse to have a nice, big, ever-changing window display… one day…
What's next?
London is next. I was enormously flattered to be invited to show my work at this years London Design Fair in September. It is an event I have visited many times and it will be wonderful to be a part of it.
What advice would you give to someone who is just starting out?
Have fun, don't take yourself too seriously and work hard.
What do you want readers to know about you or your work?
That if it wasn't clear – I absolutely love what I do and that surrounding myself with wonderful, encouraging and supportive people makes me a better person and makes my work better too.
How can people find you? (website, shop, Instagram, Facebook page, Twitter, etc.)
Website: https://www.littlebylittlethings.com
Instagram: @littlebylittle_things