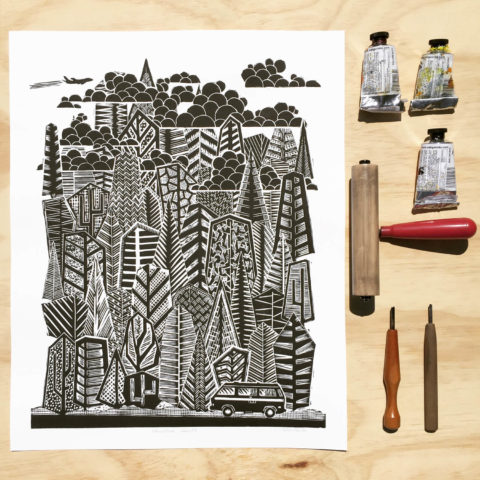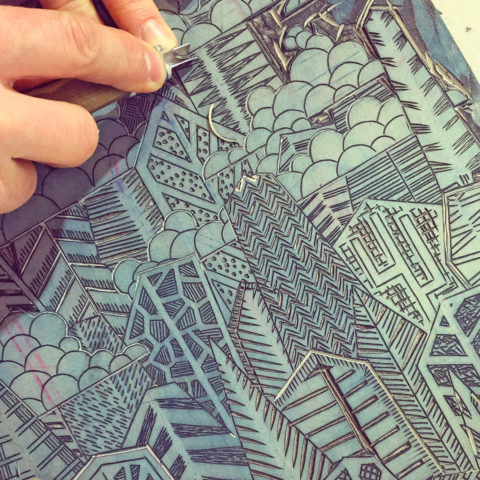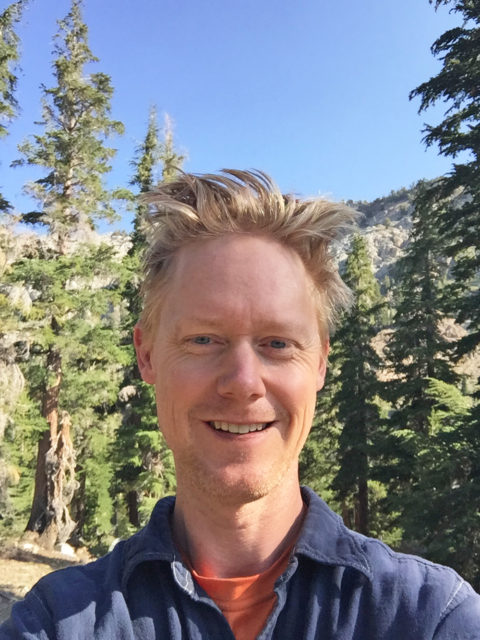 Throughout this series, I've featured many printmakers who took their first printmaking class when they were working toward their art degrees. But there are other stories, too – of people who didn't become artists until they'd worked in non-creative fields, who cobbled together an art education through evening and weekend classes, and who developed their skills outside of their day jobs. Rich Fowler, Person in Charge of Boarding All Rows, fits in the latter category. With a background in economics and commercial real estate, Rich didn't delve into art until he'd been through a few career changes.
He has a lot to say about his process and the inspiration behind his work. And, yes, he also explains the meaning of "Boarding All Rows." Read on (and definitely check out his website for his tutorials when you're finished)!
When kids say that they want to be artists, most grownups assume that they want to become painters or illustrators (or, occasionally, sculptors) – but never printmakers. How did you find your way into this medium? What other media do you work in?
For many years I had an interest in photography and then started printmaking in 2009. Relief printmaking was attractive because it required little in the way of equipment and didn't involve much time in front of a computer, which I was trying to get away from. I was initially drawn to the tactile nature of the art form. All you need to get started is a few inexpensive supplies, a cleared kitchen table and something as simple as the back of a spoon to burnish your prints.
I really enjoyed the process of hand carving linoleum and then experimenting with printing the blocks. A workshop at the Kala Art Institute in Berkeley, CA taught me how to make multi-color relief prints using a key block, which opened the doors to more interesting compositions. Evening drawing classes helped hone my rudimentary illustrating skills. Over the years, I've broadened my horizons by taking workshops in drypoint printmaking, collage, fabric printing (with Jen!) and woodblock printing. I've been fortunate to learn from a lot of San Francisco Bay Area artists I admire greatly.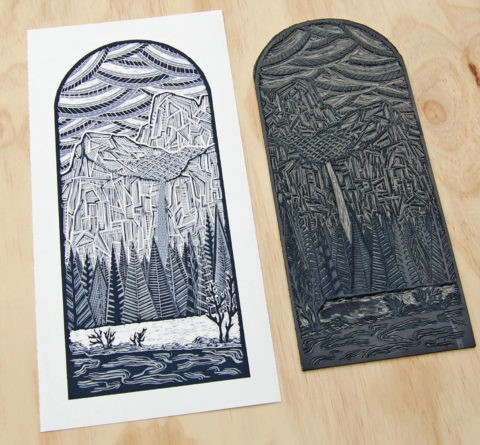 How would you describe your work?
I work out of my studio in the garage of our mini, mid-century modern home here in Northern California. Currently, I'm most focused on making linocuts, which I print from my hand-carved blocks on an etching press. I'm fascinated by patterns, like those derived from nature, geometry, the built environment, and through experimentation while mark making. The basic organic forms found in flora, mountains, water and clouds, particularly resonate with me. I use color, in addition to patterning, to help me break from purely representational art.
I really enjoy the reduction process where the same lino (or wood) block is used to print all of the colors in an image. Each successive color is printed after more of the same block is carved away. I get a kick out of peeling the paper off the inked block to see how the piece is progressing and figuring out what to do next.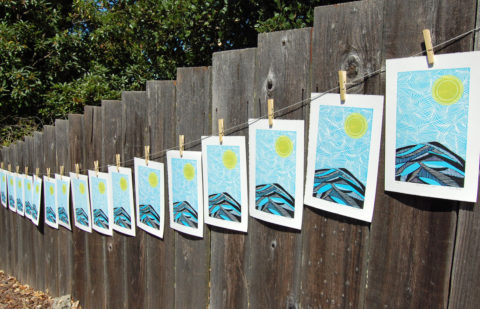 What's the first thing you ever remember making?
The first print I made of much significance was probably a three-color, multi-block linocut in a workshop. The subject was a local man at a Buddhist festival I attended in the stunning mountains of Ladakh, India. I was working from a photograph I had taken on that trekking trip a few years before and I remember how much I liked learning how to carve a second block to add a pop of color to the black key block image.
Tell me about the name "Boarding All Rows." Where did it come from? How does it relate to your work?
I live in a perpetual state of wanderlust and international travel means a great deal to me. A lot of my work is inspired by past trips overseas, as well as hiking and exploring the amazing places we have here in California, like Yosemite and Lake Tahoe. I believe that travel really can be transformational – it's had a great deal of influence on my life. I wanted my company's name (Boarding All Rows) to reflect that core passion of mine – not to mention my twisted love of airports.
What are you currently working on, and why?
Last year, I was fortunate enough to have one of my aviation-themed linocut prints used as cover art for a Dutch translation of Pilote de Guerre (1942) by Antoine de Saint-Exupéry. I really enjoyed seeing my print in another context and I've been thinking of different ways to get my work out there besides original prints on paper. I'm now in the early stages of licensing my artwork to the print-on-demand site, Society6, so it can be used on fabric and home decor.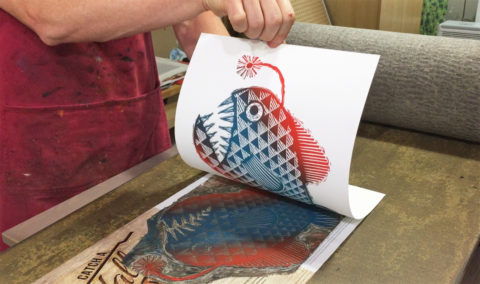 Do you have a dream project (or two)?
Oh, a dream project…definitely something travel related. How about being the artist-in-residence at San Francisco International Airport?! Getting to go behind the scenes and see how it operates around the clock. Can anyone out there set that up for me? :)
What's next?
I want to explore using linocuts in new ways like cutting them up and assembling them into collages or using them in mixed-media pieces.
What advice would you give to someone who is just starting out?
Experiment with techniques and materials and don't worry too much about how other artists or books tell you how it should be done. Own it.
What do you want readers to know about you or your work?
I often have this tension in my creative process between allowing for spontaneity in my work, while at the same time wanting to have a plan laid out for the print from the outset. I have a quote from Roger Ebert that I wrote down and have hanging from my drying rack as a reminder to me.
"The Muse visits during the act of creation, not before. Don't wait for her. Start alone."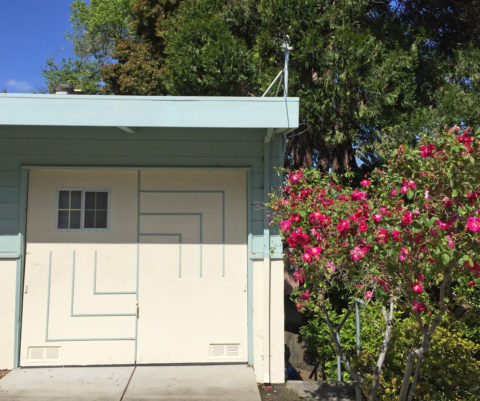 How can people find you?
My website – www.BoardingAllRows.com – has a blog, linocut tutorials and a gallery of my work, as well as links to my shops and social media accounts. You'll find me most often on Facebook and Instagram but feel free to contact me any way you like!
Website: https://www.BoardingAllRows.com
Etsy Shop: https://www.etsy.com/shop/BoardingAllRows
Society6 Shop: https://society6.com/BoardingAllRows
Instagram: https://www.instagram.com/BoardingAllRows
Facebook: https://www.facebook.com/BoardingAllRows
Twitter: https://twitter.com/BoardingAllRows
Pinterest: https://www.pinterest.com/BoardingAllRows