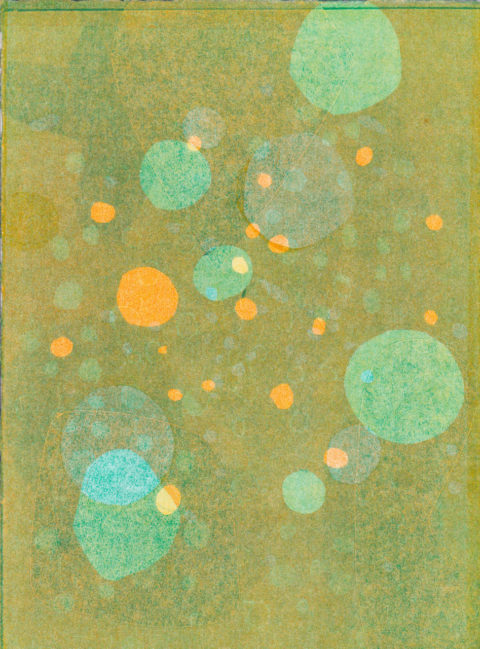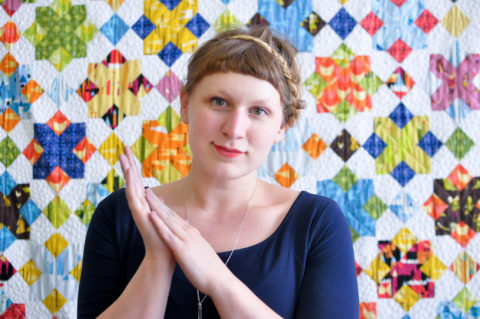 You may already know Lizzy House from her many fabric lines, or from the classes she teaches all over the world, but did you know that Lizzy's background is in printmaking? The Ann Arbor-based artist has a degree in printmaking from BYU Idaho, and just recently created a line of fabric that reflects her academic heritage.
I've never met Lizzy in person, but I'm guessing she's just as lovely in person as she is in her interview and online. Whether or not you're familiar with Lizzy's work, you're definitely in for a treat. Lizzy is wise beyond her years.
JH: When kids say that they want to be artists, most grownups assume that they want to become painters or illustrators (or, occasionally, sculptors) – but never printmakers. How did you find your way into this medium? What other media do you work in?
LH: When I was 6 I told my mom that I would design fabric. It wasn't until my 3rd year in college that I found printmaking. I was having a really hard time in my art program. Most of my professors were photorealistic illustrators and I don't even feel like that's art. They didn't think my work was art either. We were at constant odds, and it started to reflect in my grades. I was so frustrated and disheartened by this overarching disapproval of the very things that I felt like were the reasons I needed to make work at all, that I decided that I would just graduate as soon as I could in graphic design. I was good at type, I had drawing skills, and I had a skill for laying things out. It was by no means what I wanted to do, but I knew I could get decent grades and I knew I could leave with a degree. I had a lot of credits at this point, and I was able to register early which I needed to do to get these specific classes to put myself on that graphic design path. It was really early in the morning and I was sitting in a computer lab in the basement of my the art building, I was registered for those classes, I was settling into this idea and my escape plan, and I heard a voice: You need to drop graphic design and take Printmaking. My immediate response was, "what's printmaking?" Again the voice: you need to drop graphic design and take printmaking. My response: but I got into the classes I needed… the voice repeated itself a third and final time. You need to drop graphic design and take printmaking.
I didn't know what printmaking was, I had already come up with a plan, and I was so weary from feeling like what I had to show for or contribute was unimportant, unworthy, and unrealistic.
So with all the faith I had, I did what I had been told. I opened up my class registration. Dropped the graphic design classes, and added Printmaking. My graphic design classes were immediately gone and filled, because they were in high demand and hard to get so there was no turning back. I called my mom after, and she knew my previous plan so when I told her that I had a serious prompting and that I was now going to take printmaking, she said, "what's printmaking". I was walking into the unknown, just believing that something could work, and on my first day of printmaking within 20 minutes of the class beginning I felt a deep confirmation that I was in the right place, and every time I print or teach someone to print, I feel that same confirmation that I am in the right place.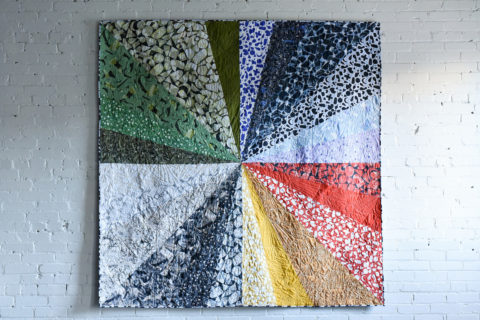 You are one busy lady – you have multiple fabric lines, you travel around the world to teach quilting and printmaking, you've written a book, you've taught at the university level (am I missing anything?). Most people would be thrilled to have just one of these opportunities in their careers. How did these opportunities arise?
It really started when I listened to that voice. But after that it was my blog, and a tutorial. In 2008 I wrote a block printing tutorial that went a little bit viral. The maker community was much smaller then, so visibility was a little more straightforward… And by that I mean, if you googled "block printing" it was wikipedia, and then me. I owe that traffic and so much help to the late and dearly missed Kathreen Ricketson who created Whip Up. Because of the visibility of that tutorial I was contacted by Elizabeth Duvivier who asked me to teach at the first fiber based Squam in the summer of 2009. It was another thing I just felt compelled to do even though I had no idea what it was or where I was going. I taught color theory, pattern design, and block printing on fabric. It was magic. I had never intended to teach, but there I was teaching. And I would say almost all my opportunities stem from that experience. Directly or indirectly. I was changed because I said YES to a lot of question marks. My closest friends in the world are women I met through or because of Squam. If I hadn't changed my direction to printmaking I'd be a different person. I don't believe in a luck. I believe in allowing. I believe in being in the right place at the right time. I believe in being proactive. I believe in listening, and I believe in the serendipity of all of it. Life is magic.
How would you describe your work?
I think like a lot of printmakers, even when I branch out, my work is driven by process. It is also deeply seated in the use of strong color and pattern. It can be very light hearted or deeply emotional (like most Geminis…)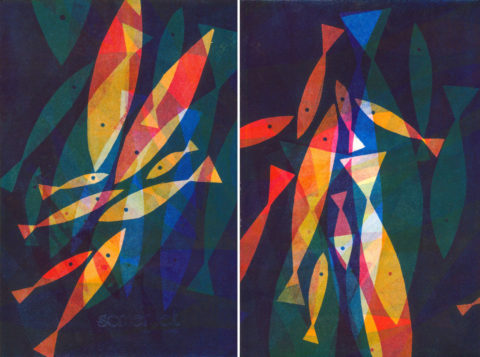 What's the first thing you ever remember making?
I don't know if I can remember a specific first thing, I just remember that we were always making, and I owe that to my mother.
What are you currently working on, and why?
I'm really excited for my fabric collection Printmaking to be released. It is the first time that I have combined my fine art printmaking with my commercial textile design. To be honest, I don't know how it will go over. Personally, I feel like it's really lovely and a beautiful blend and pivot of my two worlds, but I'm just not sure how others will receive it.
I'm also actually working on ceramics right now (nothing I'm showing yet). Since moving to Ann Arbor in June last year right after my wedding I've just been trying to take it easy and find a place and a community here while still making.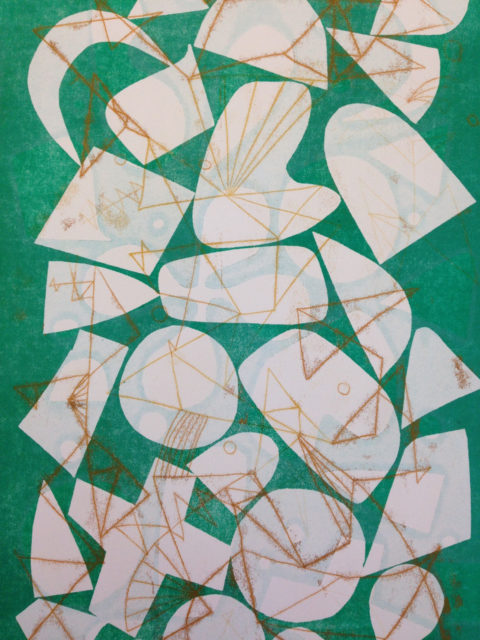 Do you have a dream project (or two)?
I do. I have a million ideas. I would like to finally write a book. Ok. I've written books, but I want this one to be a vehicle. It's like I can feel what it is, but I don't know what it looks like or how I get there yet, and I'm ok with that. I just feel like its due date is coming.
Also, I plan to rent a house on Bornholm (a Danish island in the Baltic Sea) next summer and work on a collaborative body of work with my husband. He's a pretty amazing artist, and I'm really interested in the work we will produce with some space and time in a place where my ancestors are from. We'd also like to hold a residency or workshops there to collaborate with more artists.
What's next?
I'm not sure. I feel myself and my work moving in a new direction, and as I've shared, I am ok with the mystery, and I'm willing to work until it turns into what it's supposed to be.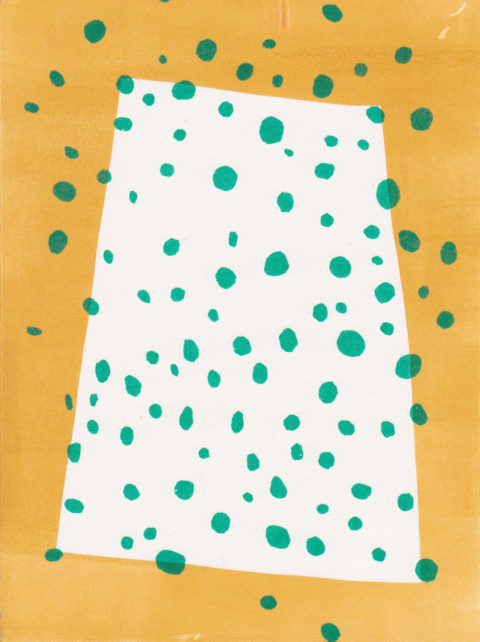 What advice would you give to someone who is just starting out?
You have to work. I think it's easy to get wrapped up in the online world and having a following. BUT, if you put your head down, and go to work, and if you're being honest with yourself about the work that you're doing then it's going to find its way. Also do your own work. Don't do someone else's work because it seems to be working for them or bringing them success. You need to find out what is going to work for you.
What do you want readers to know about you or your work?
That it's true. There's a lot of growing and honesty and searching in what I do. I feel like it breathes and changes just like me.
How can people find you? (website, shop, Instagram, Facebook page, Twitter, etc.)
I'm still reworking my website, but it will forever be lizzyhouse.com and you can always find me on Instagram @lizzyhouse.