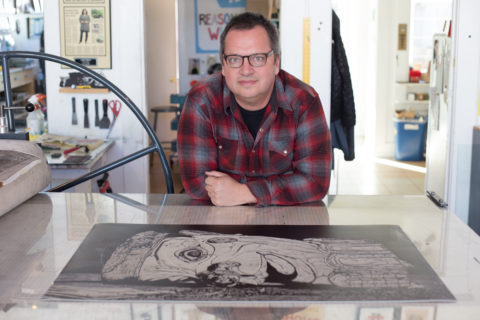 I met Eric Rewitzer many years ago, right when I was starting out as a printmaker. What immediately struck me about Eric was how generous he is – with his time, his space, and his knowledge – with other artists.
Aside from being an all-around lovely human being, Eric is also an incredible artist. His work is often large and incredibly layered, and it seems that he is working on something new and/or experimenting with a new technique every time I visit the studio.
Eric and his wife, the artist Annie Galvin, run 3 Fish Studios in San Francisco's Outer Sunset neighborhood. It's a large, beautiful space, just three blocks from the ocean. It's a working studio, a gallery, and a neighborhood community space all in one. Stop by next time you're in San Francisco!
JH: When kids say that they want to be artists, most grownups assume that they want to become painters or illustrators (or, occasionally, sculptors) – but never printmakers. How did you find your way into this medium? What other media do you work in?
EW: Drawing came first to me, since I was kid. Learning to draw meant everything. I felt I had to learn to draw before I could learn to paint. Printmaking came only later – as part of the wider discipline of drawing and painting while in art school. I remember taking to printmaking quickly – I liked the tools, the process, the immediacy. But it would take another 20 years before I embraced it as my primary medium.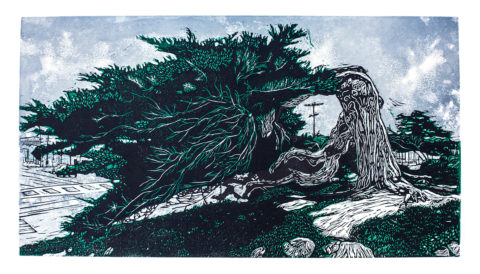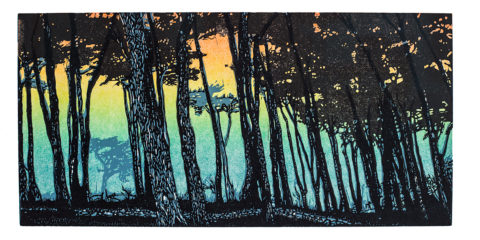 How would you describe your work?
My work is inspired by feelings evoked by what I observe – a stand of trees, the silhouette of a crane on a industrial shoreline, a surfer contemplating the ocean, a B-movie from my childhood. I find beauty and interest in these moments, and this gives me a real connection with my subject matter. I enjoy spending time in the creative process bringing these observations to life in print.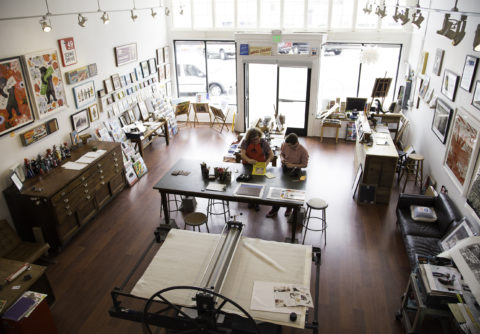 In addition to creating your own work, you also run a busy shop/gallery in San Francisco. How do you balance your creative practice with the demands of also running a business?
One fuels the other. I wouldn't be busy running the gallery if people weren't responding to the artwork I was making. And I don't think I'd be able to support myself as an artist if I didn't have my own gallery to sell my work. Since I made the jump to being a full-time artist 10 years ago, I suspected I'd have to approach my new career this way. I'm glad it worked out.
What's the first thing you ever remember making?
I grew up in Michigan, and we had a walnut tree in our backyard. The nuts would fall to the ground, and once exposed to the elements, they would reveal a beautiful wooden shell, and when that shell would be separated into two halves, each half would look like the face of an owl. So I would glue a half walnut on top of a intact walnut, creating a tiny owl figurine. Then I would glue a couple of pussy willow buds on the side of the owl's head to finish them off, and sell them for 25 cents on my front porch. It was good candy money for a 6-year-old.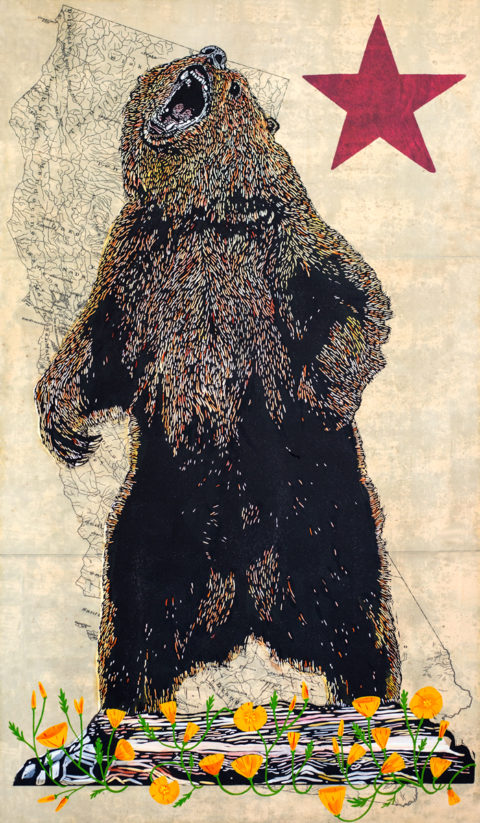 What is a recent project that you're especially proud of?
I recently finished a piece called "California Rising", which is an image of bear rising up on its haunches and roaring. I did it in response to the federal election last November. It found its way to Sacramento, and it caught the attention of senators, congresspeople, and the press. I was thrilled when it was recently featured in Time Magazine in an article on the California resistance to the new Trump era. Some have called it a symbol of resistance. I think that is pretty cool.
What are you currently working on, and why?
I'm working on a piece based on a photo I took at Point Reyes. It is of a tangle of cypress trees creating a tunnel over an access road to a old signal station. I've always loved the spot, and think it will make an interesting print.
Do you have a dream project (or two)?
I really want to go to Japan and learn the fundamental skills of mokuhanga (water-based woodblock printmaking). I'd also like to travel the world and take pictures of its most beautiful trees, and make a series of prints from them.
What's next?
I plan on beginning a new series of work based on National Parks. I have always been inspired by nature, and my thought is that I will spend the next year visiting parks here in the West and create a body of work from what I experience there. Point Reyes is up first, then I look forward to trip to other natural wonders in California, Washington, Oregon, Utah, Nevada, and more.
What advice would you give to someone who is just starting out?
Build a community. No single thing has inspired me to work so hard than the example of other people working just as hard. I find them and keep them close. We share our ideas, opportunities, successes, failures, hopes, dreams – because we get each other and know this is what we choose to do and know how much work it is. As time goes on, that community grows as you invite people in to see the results of your efforts. Establishing an authentic rapport about the work you do is so important, and you learn this by doing this day in and day out. This is something I never really thought of at all when I was younger – but it has provided a great sense of satisfaction as I've matured as an artist.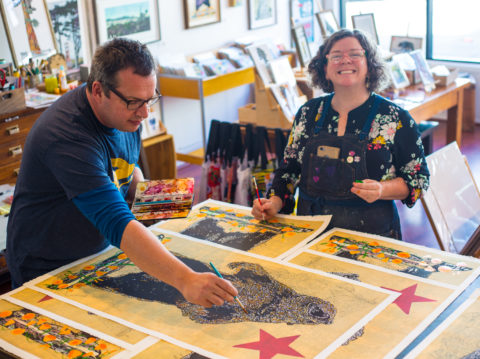 What else do you want readers to know about you or your work?
I knew I was going to be a printmaker when, at 40 years old, I took a printmaking class at City College in San Francisco to re-introduce me to the artform. I had not picked up a carving tool in 10 years, and when I started carving a block, I realized that I was carving the same tortured German lines that I drew. I loved the tactile nature of the process, I loved the paper, I loved the press. I also thought it was important that I focus on something that would differentiate me – so relief printmaking became my practice.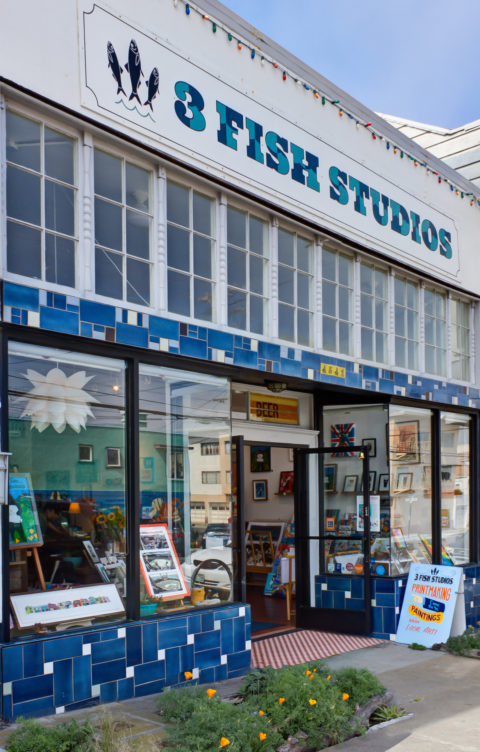 How can people find you? (website, shop, Instagram, Facebook page, Twitter, etc.)
Web: www.3fishstudios.com 
Facebook: facebook.com/3fishstudios 
Instagram: instagram.co/3fishstudios
Best of all, come to the studio, at 4541 Irving Street in San Francisco. Right now we're open from 10am to 6pm Weds – Sunday, and every day after June.