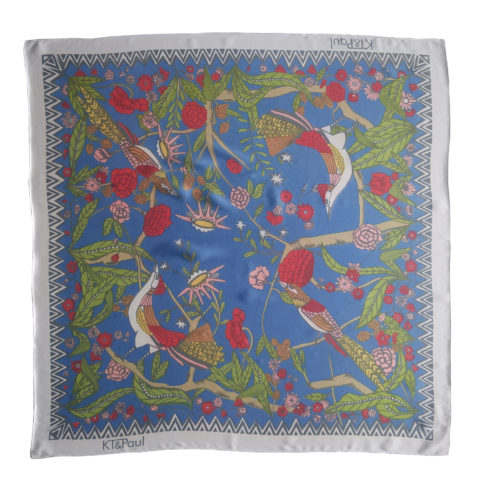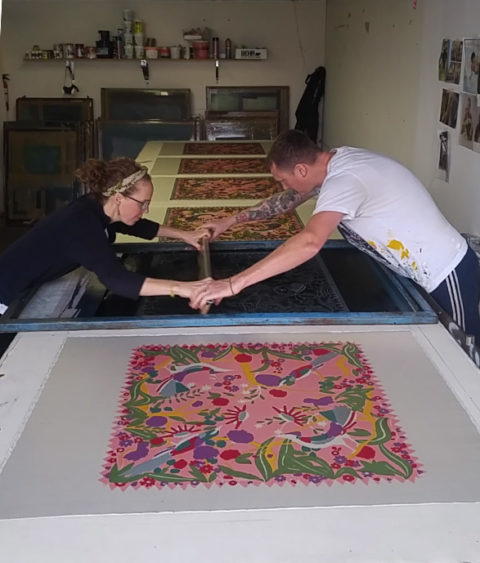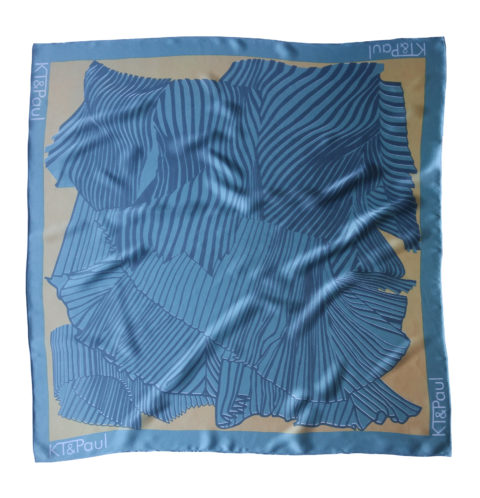 Originally from the UK, Katie and Paul Morris of KT & Paul are printmakers who have lived in Vancouver BC for the past six years. They met at university in London while they were studying printed textiles and design.
I discovered their work on Instagram, where their videos of them printing often get tens of thousands of views! I was intrigued by their work because it is both beautiful and technically sophisticated. Their gorgeous, silkscreened scarves require a level of technical skill that is so far beyond much of the work I've seen on social media.
They are the first screenprinters I've interviewed this year, and I'm delighted to share their work with you.
JH: When kids say that they want to be artists, most grownups assume that they want to become painters or illustrators (or, occasionally, sculptors) – but never printmakers. How did you find your way into this medium?
K&P: In the UK there is a Foundation course which gives 17-18 year-olds who know they want to pursue art the opportunity to try many different mediums. This is where Paul and I both discovered print making.
How would you describe your work?
Paul and I have been working as printers for 16 years and our aesthetics are constantly evolving. At the moment we would describe our work as textural and illustrative.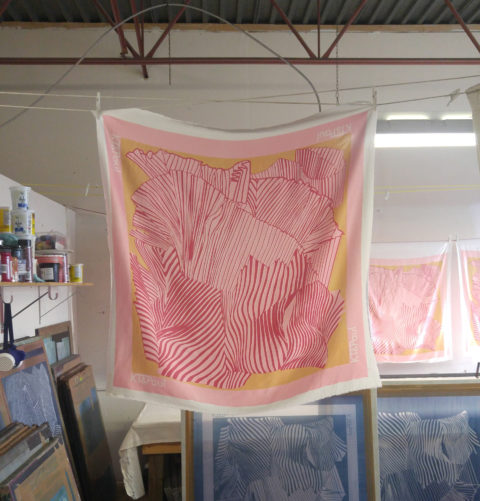 Your work is technically very complicated: you silkscreen multi-color, large format pieces that require precise registration, on fabric, by hand. Many experienced screenprinters can achieve maybe two of those feats in one piece. How long did it take for you to get this level? How do you prepare for each new piece?
You are correct our work is very technical, thank you for noticing! We have found over the years that to stand out you have to go the extra mile. To achieve this we still go back to what we learnt at university and a lot of mistakes over the years.
Currently our ideas come from what surrounds us and what images and colour are trending.  Another factor before we start printing is to produce a beautiful art piece or product that has longevity.
The execution is where the real work starts, we start with the initial art work, which is a combination of hand drawing, digital drawing, mark making and painting. After the concept stage we breakdown images into colour layers in Photoshop, these are printed off on to films where we expose images on to our silk screens. Next we register the screens to the repeat bar on the print table ready to print. Sampling colour can be the most time consuming stage depending on what inks you are using, acid and reactives being the most complicated, however give the most vibrant and satisfying results on fabrics.
What's the first thing you ever remember making?
Paul and I have been working and printing together since university and remember designing and printing wallpaper and wall hanging, creatively free, having fun in the print room. Good times!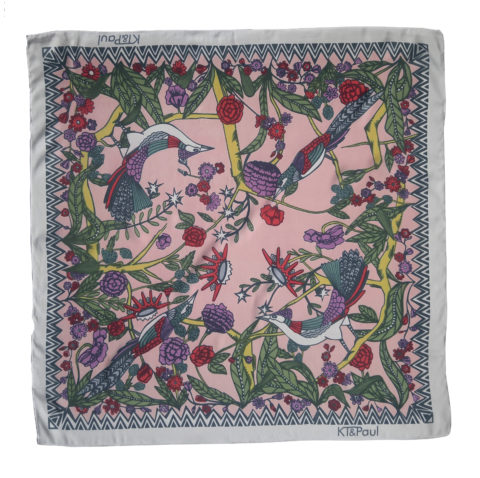 Do you have a dream project (or two)?
Printing silk scarves has always been a project that we have wanted to under take and through nearly a year of technical and colour sampling we are so pleased with the finished product and look forward to creating more.
What's next?
The future right now is to increase brand awareness, profile and stockist for the scarves. who knows what the future holds, we are always open to collaborations, working with other creatives is exciting.
What advice would you give to someone who is just starting out?
Printmaking is a very versatile tool enabling an artist to be creative in many forms, fashion, interiors, art etc. Depending on the level of screen printing you want to go to, like us, you need good formal training – or even an internship –  to experience printmaking and the running of a business. However, if you are looking to just have fun with print and create a few products with simple designs to sell at small craft fairs, it is relatively easy.
How can people find you?

Website: http://ktandpaul.com/
Instagram: @ktandpaul