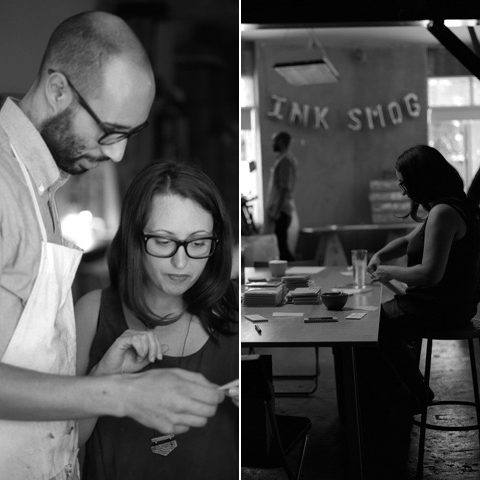 I'm excited to introduce this week's printmakers: Rosemary Dardick and Robin Belcher of Ink + Smog Editions. I first met Robin way back in 1998, when he was a freshman at the San Francisco high school where I worked. I always remember Robin as a tall, smiling, creative kid. Many years later, I started following Ink + Smog on Instagram, and only made the connection when Rosemary Dardick, the other half of Ink + Smog (and Robin's wife), emailed me over a year ago!
Ink + Smog is an urban paper goods company, creating letterpress and linocut prints out of a studio in Los Angeles. I grew up not far from their LA studio, and recognize many of the LA scenes they illustrate from my youth (and many of their San Francisco scenes from the 20+ years I've lived here).
Rosemary and Robin have a lot of good advice about working with your significant other, and the importance of finding a good partner, so read on!
JH: When kids say that they want to be artists, most grownups assume that they want to become painters or illustrators (or, occasionally, sculptors) – but never printmakers. How did you find your way into this medium? What other media do you work in?
I+S: We're both artists in our own right, Robin is a printmaker who also draws and paints and Rosemary's work looks at ideas within architecture and urban planning through lace. We were both introduced to printmaking growing up. Robin got more serious during undergrad concentrating on complex linoleum block prints and pronto plate lithography. Rosemary ended up doing a lot of silkscreen on fabric as part of her undergraduate work as well.
We met at Cranbrook Academy of Art in 2008 while Robin was studying Print Media and Rosemary was in the Fiber department. We moved to Los Angeles in 2010 and began working in our tiny apartment in Koreatown, using whatever supplies we had at hand.
How would you describe your work?

Both of our personal art practices draw on the built environment. We are both intensely interested in cities and urban spaces. It was a very natural progression for our collaboration to follow in the same vein.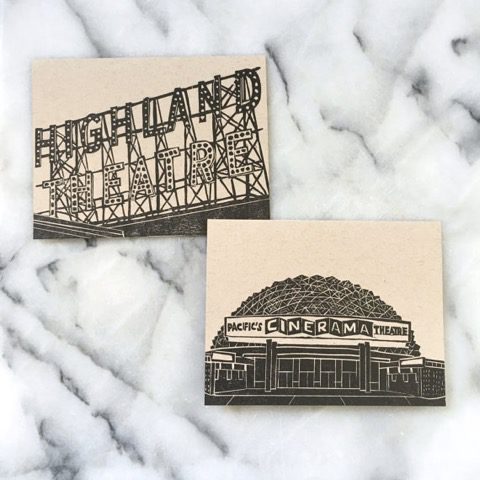 Your work is so LA-centric. How did this come about?
Our urban paper goods are inspired by our love for cities and urban environments. We are fascinated by the layers of architecture and design that make up our daily urban life. We can't help but be inspired by the buildings, signage and architectural details that surround us. We see our work as a love letter to the cities we love.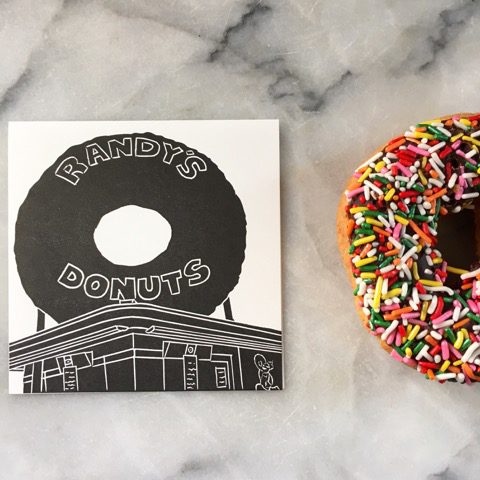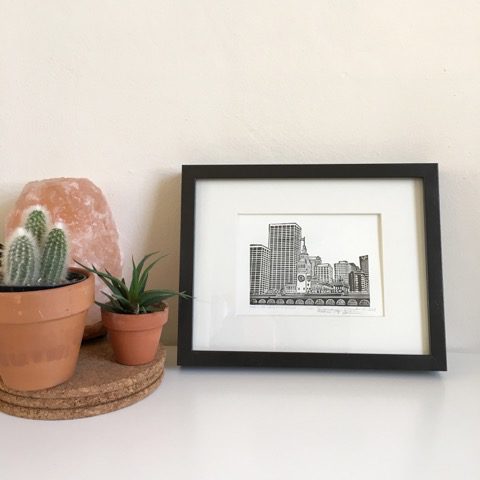 What's the first thing you ever remember making?
Robin remembers drawing everywhere on everything. The first thing that he remembers making was his version of an X-Men comic featuring foxes. His mom still has it!
Rosemary remembers the sketchbooks that her parents would buy her at the start of every summer. She was allowed to do whatever she wanted with them, as long as she didn't rip any pages out. She still has them and thinks they're somewhere in the garage.
How do you manage being partners in both business and in life? What's worked for you? Do you have specific, distinct roles in your business? Or do they overlap?
It's a balancing act. It can be hard to draw a distinct line between the two parts of our lives especially since we mostly work from home while our daughter is young. That line gets blurred, but for the most part, we try to keep business and life separate. We've always carried the burden together. We have separate distinct roles and we overlap. We often switch back and forth when it comes to the many steps in design and production.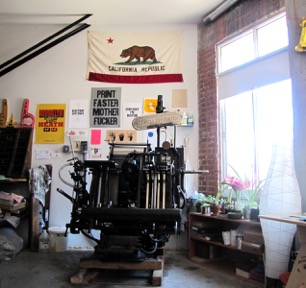 What are you currently working on, and why?
We're currently working on the new designs that we'll be releasing this year. One of the projects that we're particularly excited about is a line of greeting cards focusing on typography.
Do you have a dream project (or two)?
We've always kicked around the idea of a children's book or two. We're also talking about introducing a new line of city prints and we would love to be able to set up an artist residency program at some point as well.
What's next?
We're in the middle of a big studio reorganization at the moment. We have some new equipment to try and integrate and we're looking forward to a more streamlined work space for the new year.
What advice would you give to someone who is just starting out?
Find a good partner, someone who will drive you crazy but keep you grounded and push you. Make plans, write down goals, put your head down and do the work. But don't forget to reach out, accountability partners are important. Look to other people running businesses that you admire.
What else do you want readers to know about you or your work?
We work in a combination of letterpress and linocuts which are drawn and carved by hand out of battleship linoleum and then printed on our Heidelberg Windmill letterpress.
How can people find you?
Shop: www.inkandsmogeditions.etsy.com
Instagram: @inkandsmogeditions
Facebook: inkandsmogeditions
Twitter: @inkandsmog